Tue 2nd Sept
Canada's TSX index made a bullish ascending triangle breakout back in July and this now seems confirmed given the August close above this breakout 15,200 level. The TSX is an index of the largest market-cap stocks listed on the Toronto Stock Exchange.
The TSX index had been recovering since 2009 by consolidating within, firstly, a symmetrical triangle pattern and, after that bullish breakout, within an ascending triangle pattern. Price had rallied from the 2009 lows, down at 7,600, to consolidate up under the previous highs at the 15,200 level. July and August have now printed bullish monthly candles to close above the 15,200 level.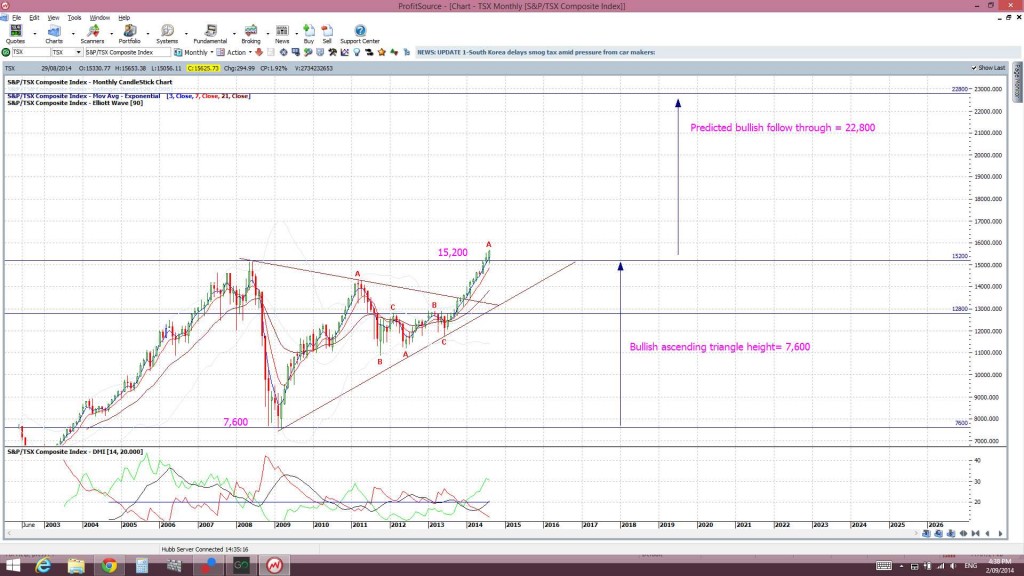 Technical theory can assist traders with predicting possible bullish targets on triangle breakout moves. The predicted follow through for any triangle breakout is estimated to be equivalent to the height of the original triangle. The height of the TSX ascending triangle was 7,600 (15,200 - 7,600). Thus, the bullish follow through from 15,200 could be expected to extend by 7,600. This would place the index up near 22,800. A lofty target for sure and possibly hard to imagine at the moment but....that's the theory!