This page contains information about FX index alignment for Risk Off:
Risk Off Alignment:
price is above the Cloud on the USDX for both daily and 4hr time frames AND

price is below the Cloud on the EURX for both daily and 4hr time frames.
FX Index Alignment is quite rare but offers enhanced trend trading conditions and so should be harnessed at the earliest possibility.
 Ichimoku Cloud Alignment often results in:
More reliable TC trend signals on the 4hr time frame.

Longer duration trends from any TC signals.

TC signals that deliver a large number of pips (often in the order of hundreds)

A less choppy and, thus, safer trend- trading environment.
Example : October 2015
EURX and USDX: The FX indices fell into 'risk off' alignment on October 22nd 2015. This alignment resulted in a 600 pip fall on the EUR/USD pair that was also observed with a triangle breakdown:
USDX daily Cloud:
USDX 4hr Cloud:
EURX daily Cloud:
EURX 4hr Cloud:
E/U 4hr: a 600 pip move once alignment kicked in: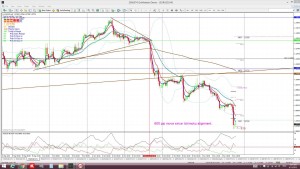 Example: May 2012
EURX and USDX: May was a fantastic trading period offering almost a full month of alignment towards 'risk off'. The EURX daily and 4hr charts show that price was below the Cloud for most of the month. By contrast, the USDX index traded above the Cloud for most of the month on the daily and 4hr time frame.
Currency pairs: All of the major currencies showed great SHORT trending opportunities. An exception back then was the EUR/AUD though. During this time the Euro and AUD were quite highly correlated so the EUR/AUD was not an appropriate pair to trade under these circumstances.