Stock markets across Europe and the USA rallied on Friday following the announcement of stimulus measures from the ECB and China. Some stock indices have continued on from previous bullish breakouts but a few others, that have lagged until recently, now look like heading to test potential breakout levels. This article takes a look at these indices and also some key stocks.
S&P500 monthly: continuing on from the ascending triangle breakout above 1,600: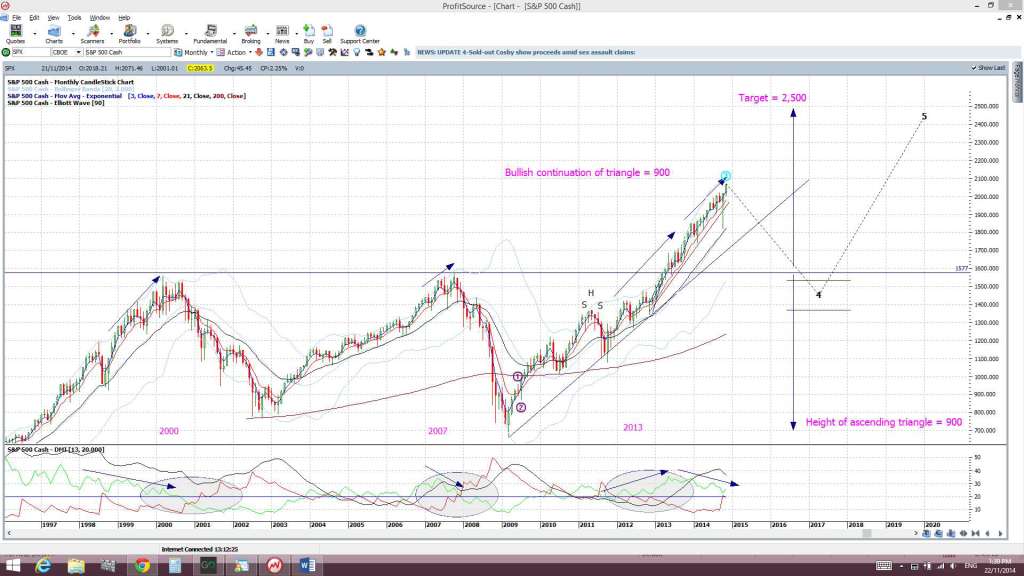 DJIA monthly: same here but from the 14,000 level:
NASDAQ monthly: this is the index that has me quite excited! The index flirted up near the 4,800 level on Friday and I'm on the lookout for continuation:
FTSE monthly: this index has recovered from a previous trend line break and now looks to be heading to test the 7,000 level. Any bullish ascending triangle breakout would suggest a move to 10,400: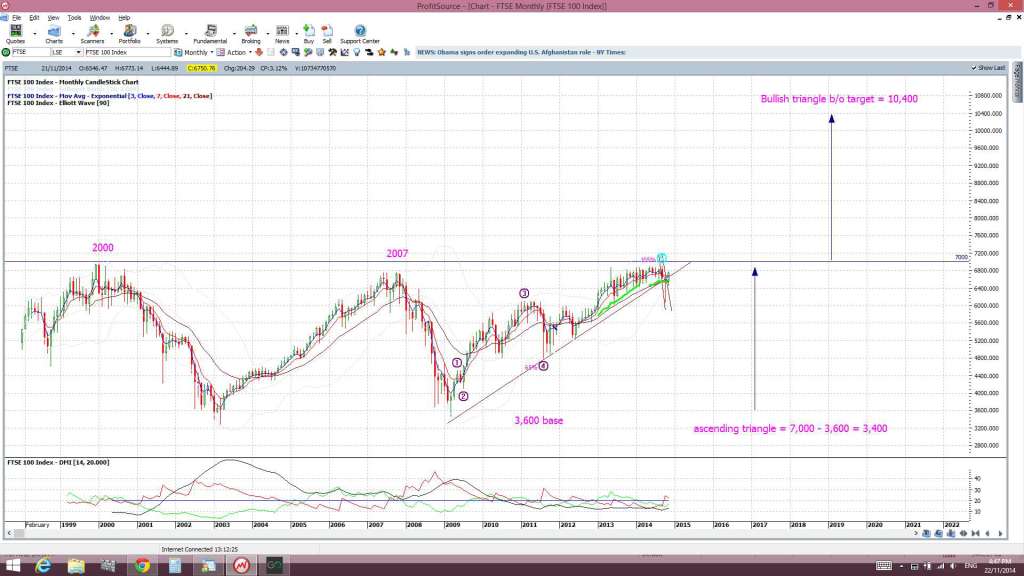 Germany's DAX monthly: the ascending triangle breakout continues here and suggests a move towards 13,000: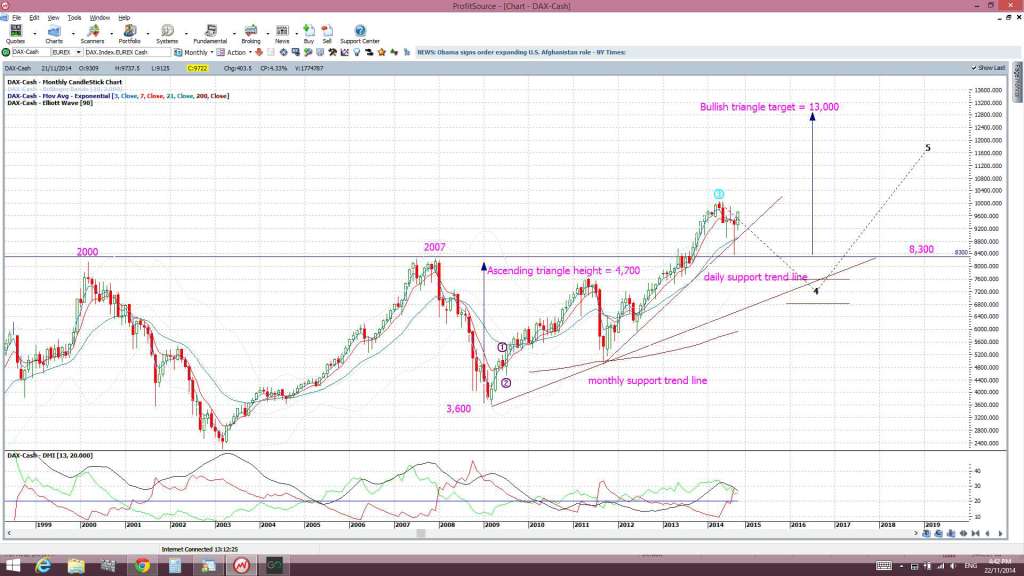 TSX monthly: Toronto's index looks to be heading back to test 15,200. Any bullish breakout would suggest a move up towards 22,800: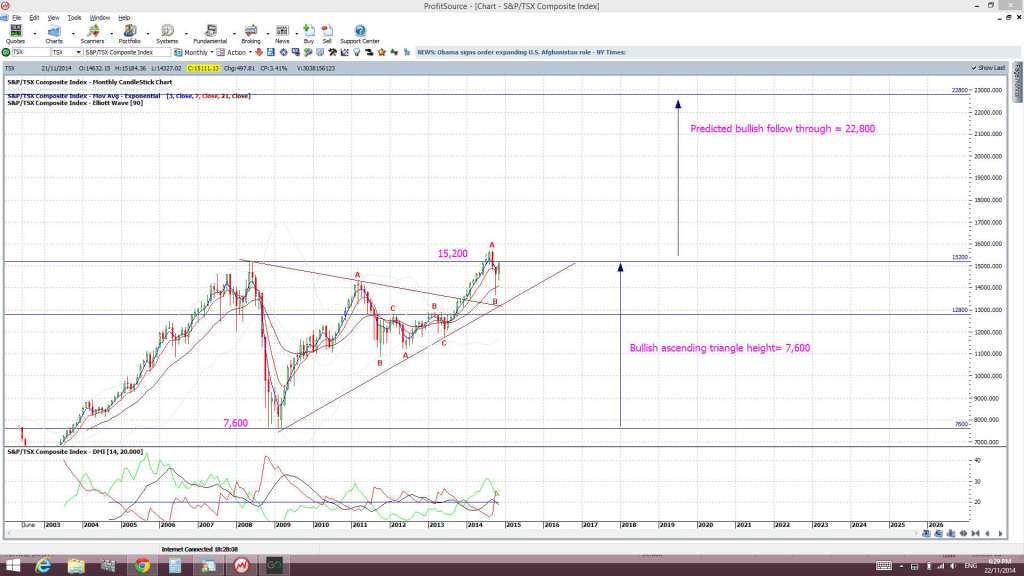 India's Sensex: this bullish triangle breakout continues and a target is suggested up at 34,000:
XAO weekly: The Aussie All Ordinaries has really lagged in the global recovery post GFC. I wrote a separate article on the Aussie market during the week with a focus on sector analysis: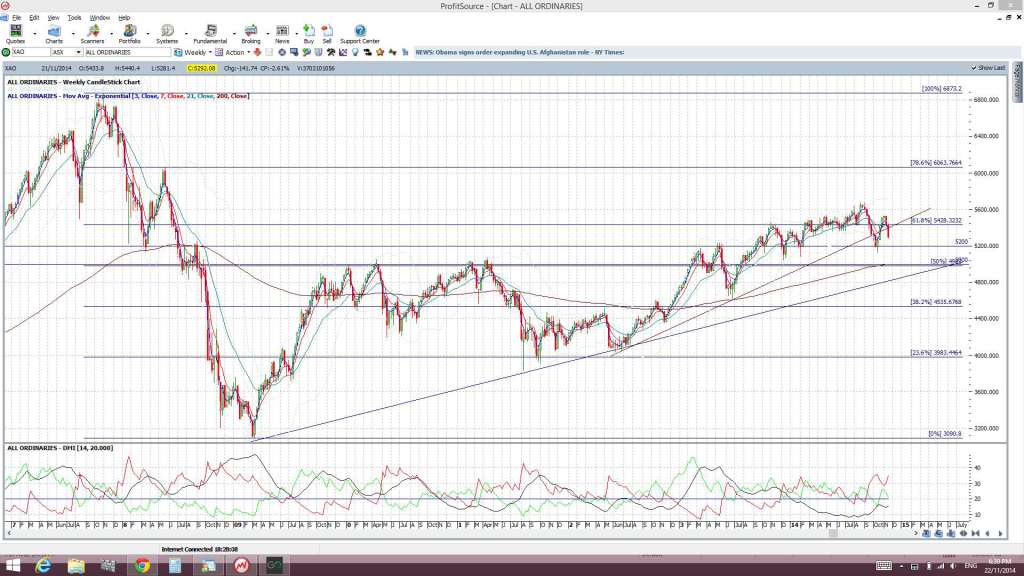 Hang Seng Index: any new close above 24,000 would suggest bullish continuation: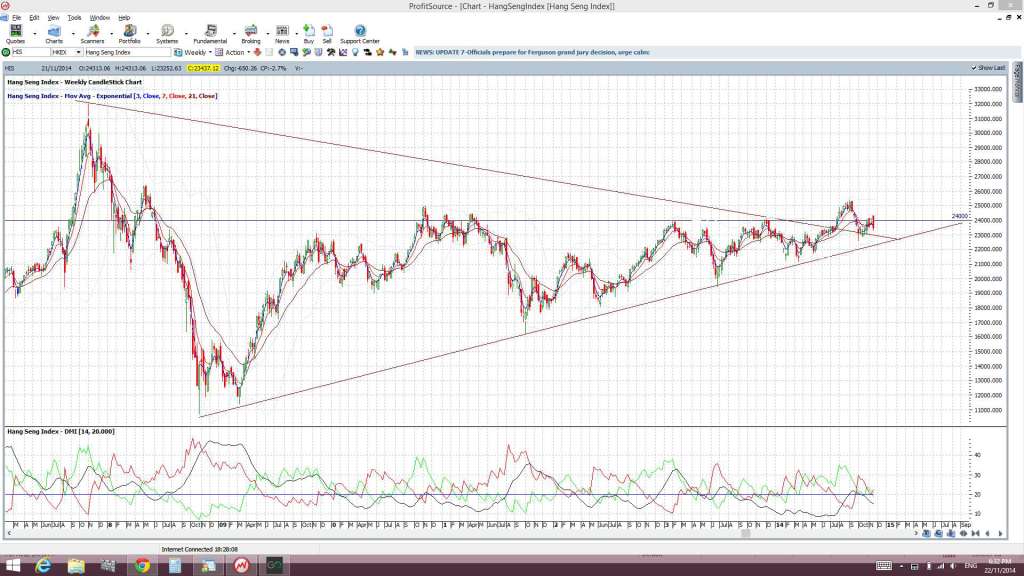 EEM weekly: the emerging market ETF looks to putting in a bounce off trend line support: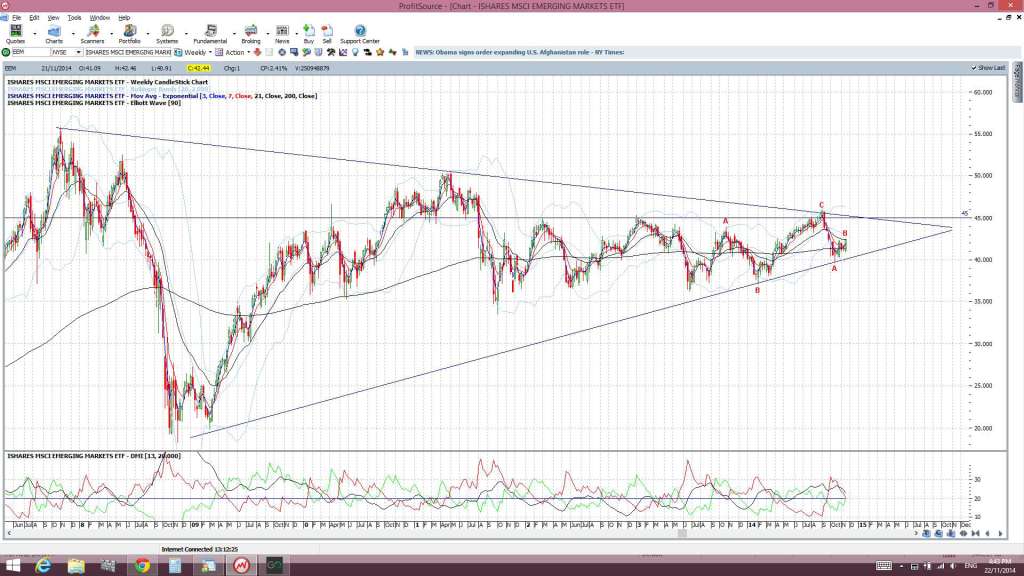 IYT weekly: the 'bellwether' transport ETF looks strong. Notions of 'dont stand in front of a train' come to mind here!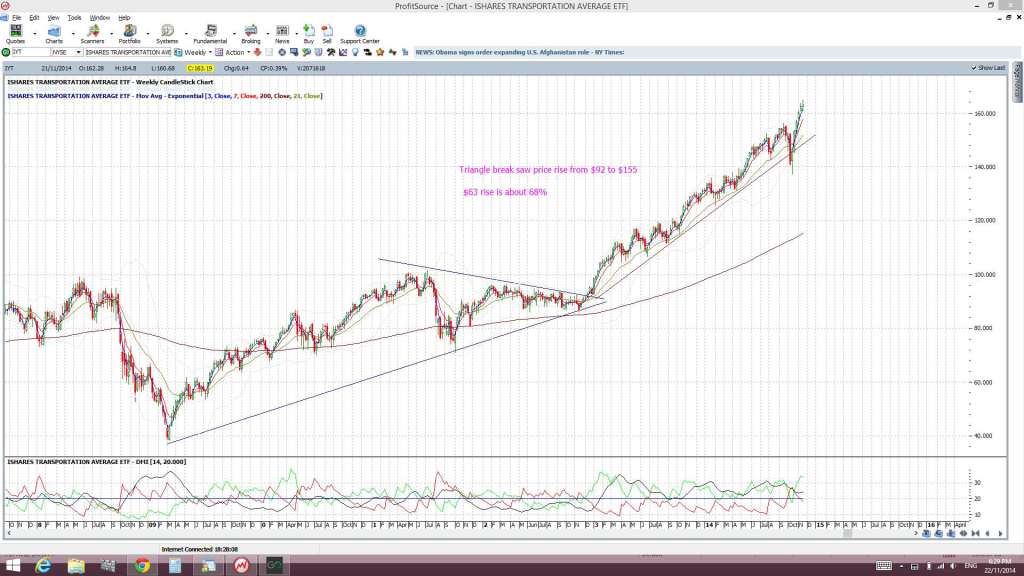 XLF weekly: the Financials ETF looks healthy and any new close and hold above $25 would suggest continuation: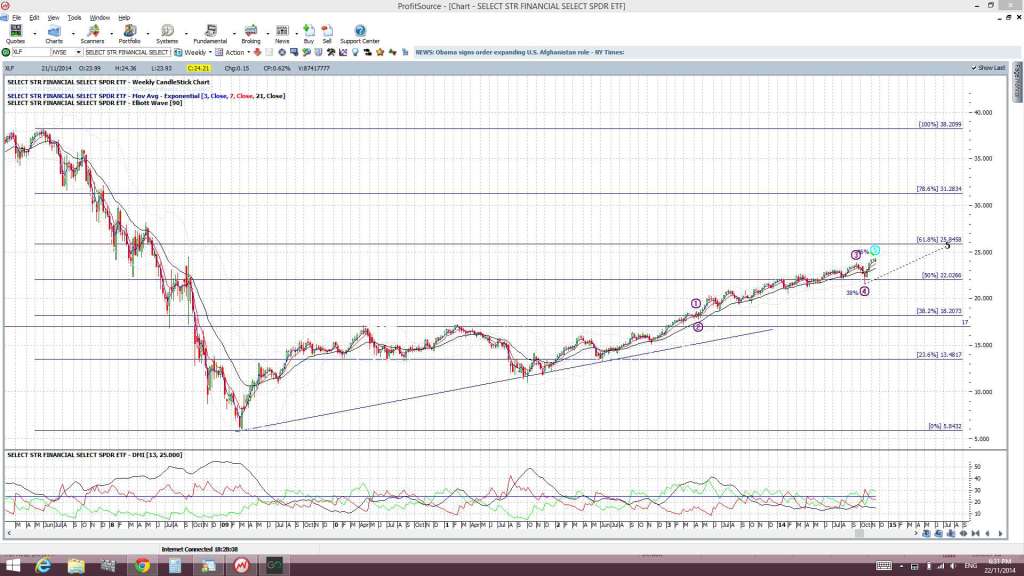 Stocks: the following stocks are ones I'm trading:
INTC monthly: the monthly candle closes next week and any hold any close above the $35 level would be bullish:
MCD monthly: any close and hold above $104 would be bullish: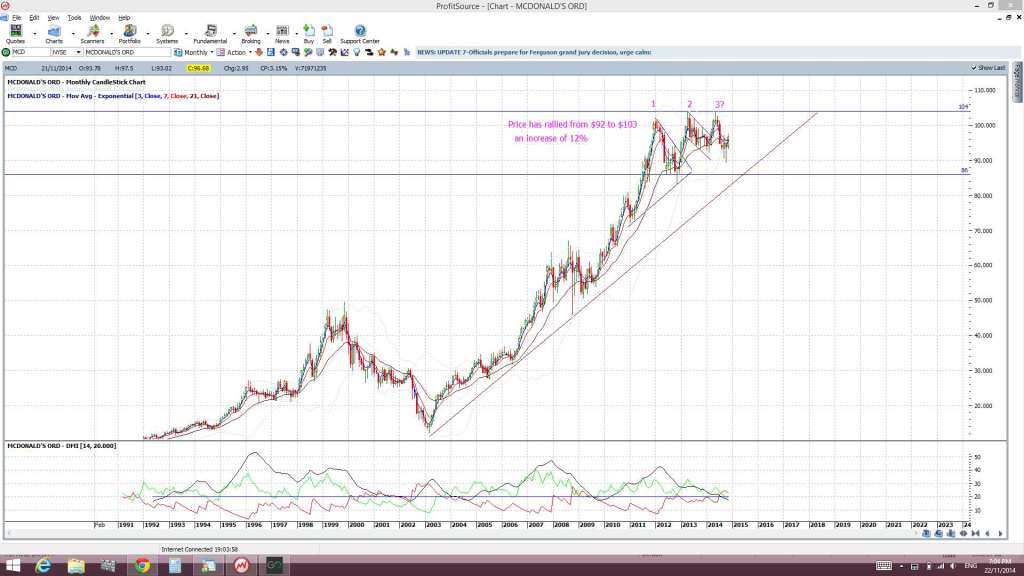 AA monthly: any close above $18 would suggest continuation: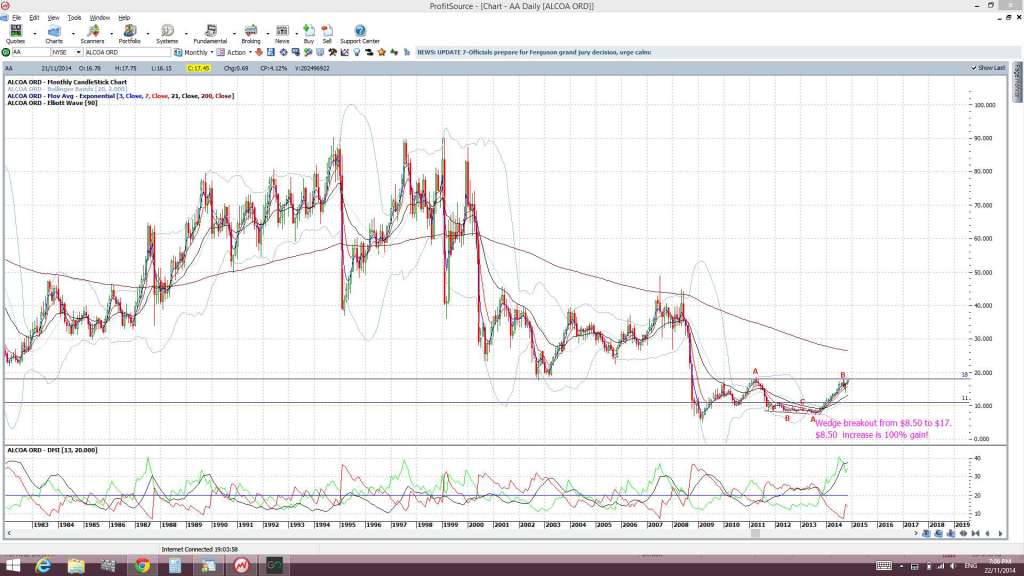 AAPL weekly: this bullish Cup 'n' Handle breakout is well underway:
AMAT monthly: watch for any new close above $24:
BAC monthly: the hold above $15 suggests bullish continuation: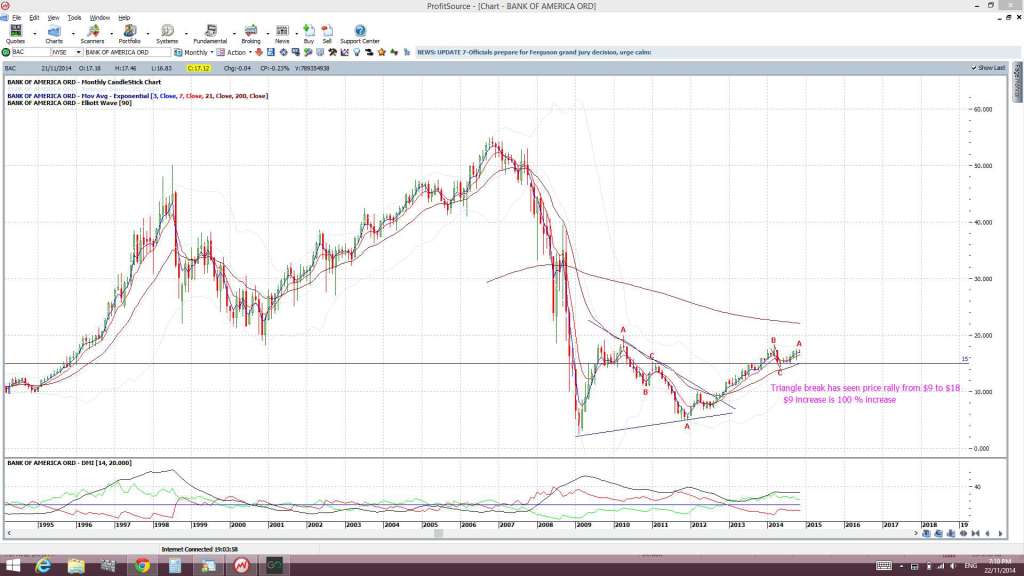 CSCO monthly: this has made a bullish trend line break but any close above $30 would suggest continuation:
GE monthly: a bullish monthly triangle breakout would suggest continuation. Watch where this closes at the end of next week: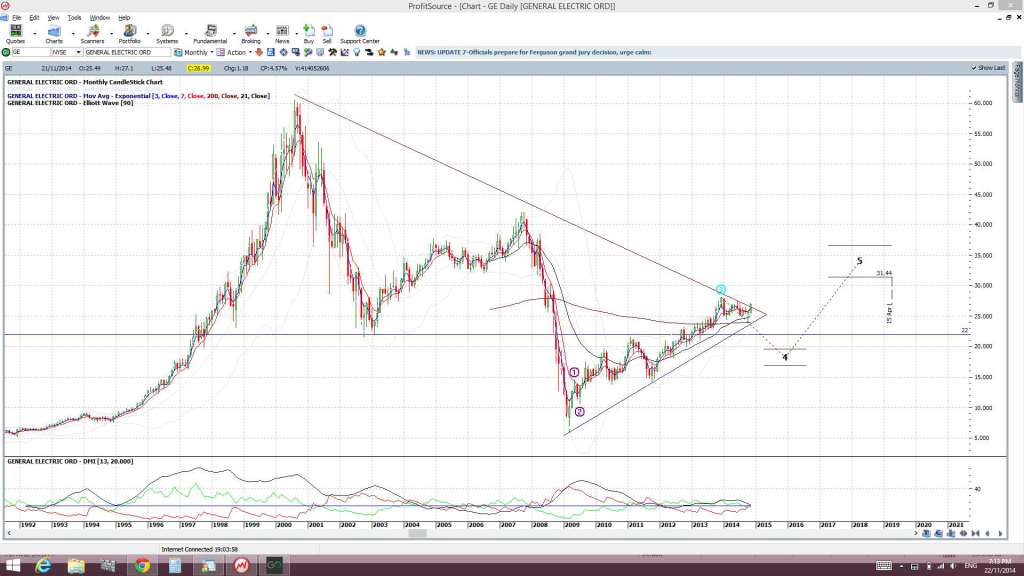 MU monthly: this has been consolidating within a Flag but any new close and hold above $35 would be bullish: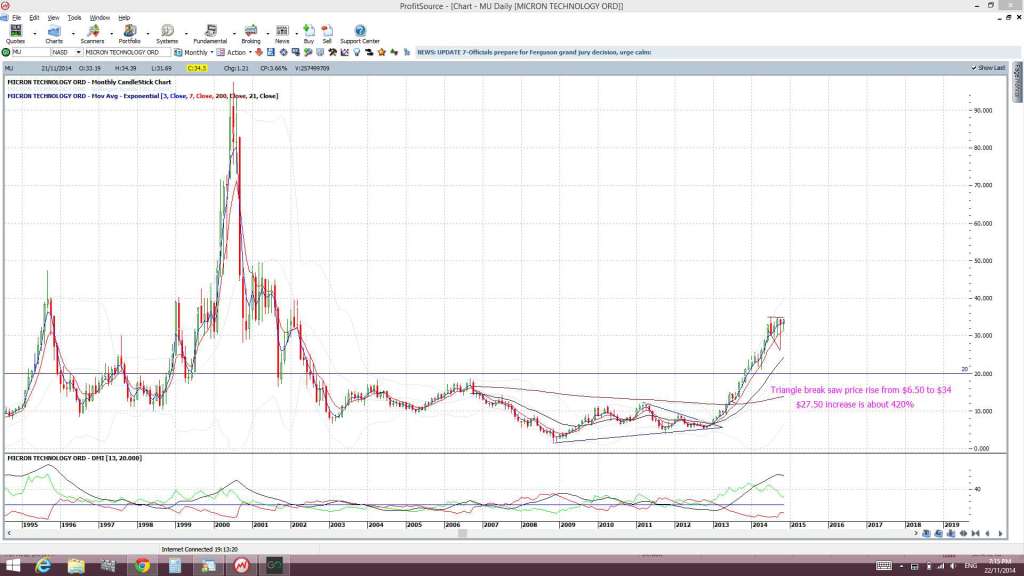 AMZN weekly: watch for any Bull Flag breakout here:
YHOO monthly: this is a 'buy on dips' stock: