Gold and Silver both look to have carved out a base following their lengthy decline from the dizzy heights both achieved back in mid 2011. Silver made more than a 78.6% retrace from its 2011 peak and gold made up to a 61.8% retrace but the decline for both may have come to an end. In this article I will be looking at the charts of both metals and some of their stocks to see if there are any trading opportunities building here.
Gold: Gold peaked at $1,920.70 back in September 2011 but has been on a steady decline since then. The last major swing high move was from 2008 to 2011 and it is interesting to see that price action looks to have carved out a recent base at the 61.8% fib retrace of that move, near $1,145. Whilst the bear trend line from the 2011 highs has not been broken a bear trend line in play since 2012 was broken last week. There has also been a bullish 'inverse H&S' pattern printed on the daily chart:
Silver: Silver peaked up just under $50 back in April 2011 but has been on the decline since then. Price action has been trading under a bear trend line until recently but is currently testing the atmosphere on the bullish breakout side of this line. A monthly candle close will need to be seen to confirm any bullish breakout here though and that is not for another two weeks:
Whilst both metals could just be experiencing a bit of a technical style bounce from a 'what goes down must eventually go up' phenomenon there are a number of fundamental factors at work helping to support these two commodities. Concern about global deflation and the lack of growth, the falling Euro, problems with the Eurozone and a possible 'Grexit', geopolitical issues and SNB style intervention have all seen some flow into Gold in a 'flight to safety' move. The USD has also been the buoyed by a similar flow but last week's weaker-than-expected US CPI data was concerning and may see Gold further benefit.
The decline of both metals since 2011 has also seen a decline in both Gold and Silver stocks. However, if fortunes turn positive for these metals then the same sentiment may trickle through for their stocks, ETFs and Futures. The weekly charts of many Gold and Silver instruments reveal an uptick in price action and some have broken, or are testing, long term bear trend lines. They will be worth watching for any sustained breakout and, as such, may offer decent trading opportunities in the not too distant future.
Futures and ETFs
GC: Spot Gold weekly (Comex Gold Futures): as with the Forex chart of Gold, a bear trend line since 2012 has been broken: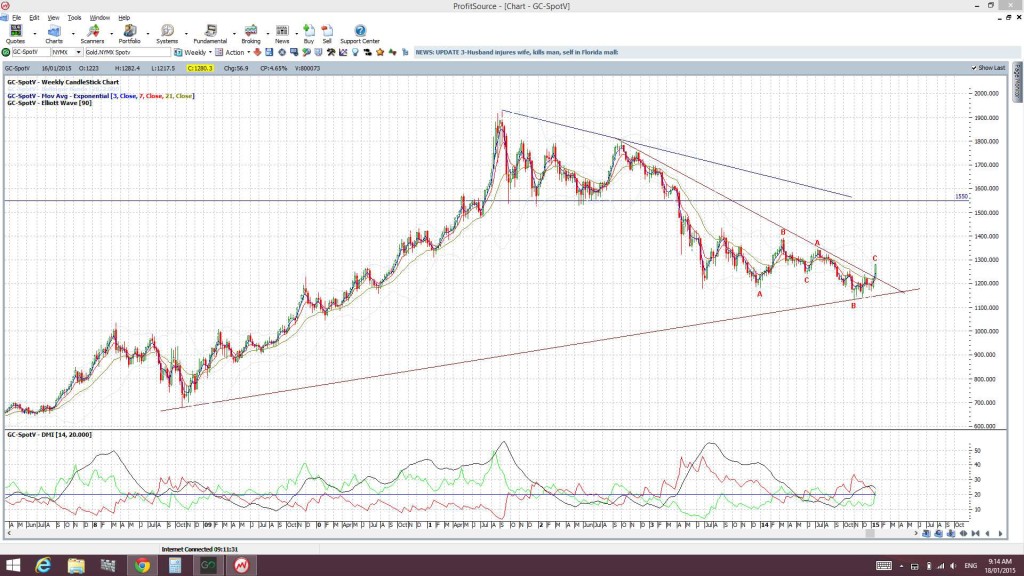 GLD weekly: Gold bullion ETF: as for the Gold Forex and Futures chart, a bear trend line since 2012 has been broken: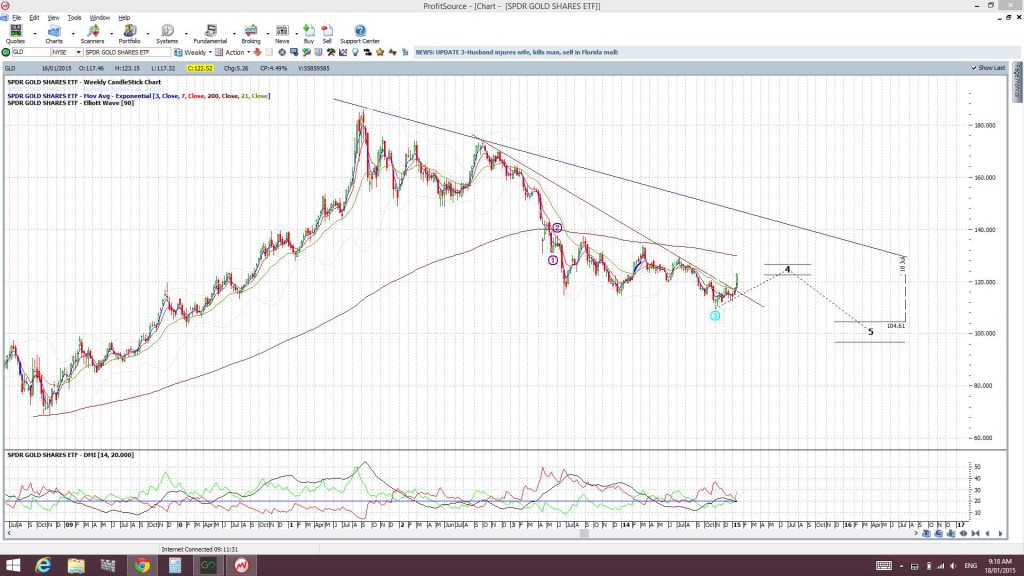 GDX weekly: Gold miners ETF: a bear trend since 2011 is currently being tested. Watch for any bullish breakout here: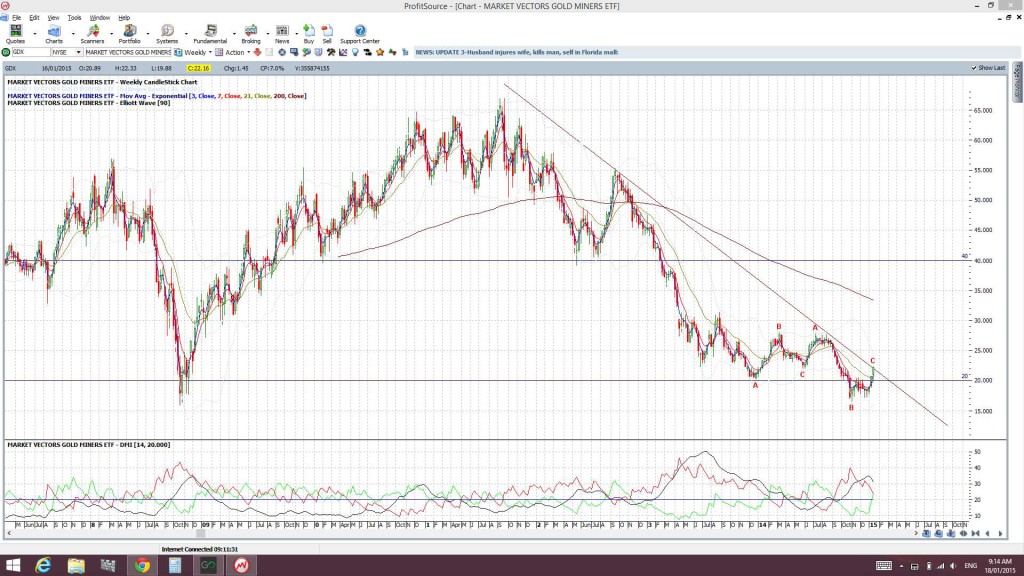 NUGT: this a 3x Bull Gold Miners ETF: this ETF is testing a bear trend line but has already broken back above the Cloud. A break and hold above $20 would be convincing though:
NUGT weekly: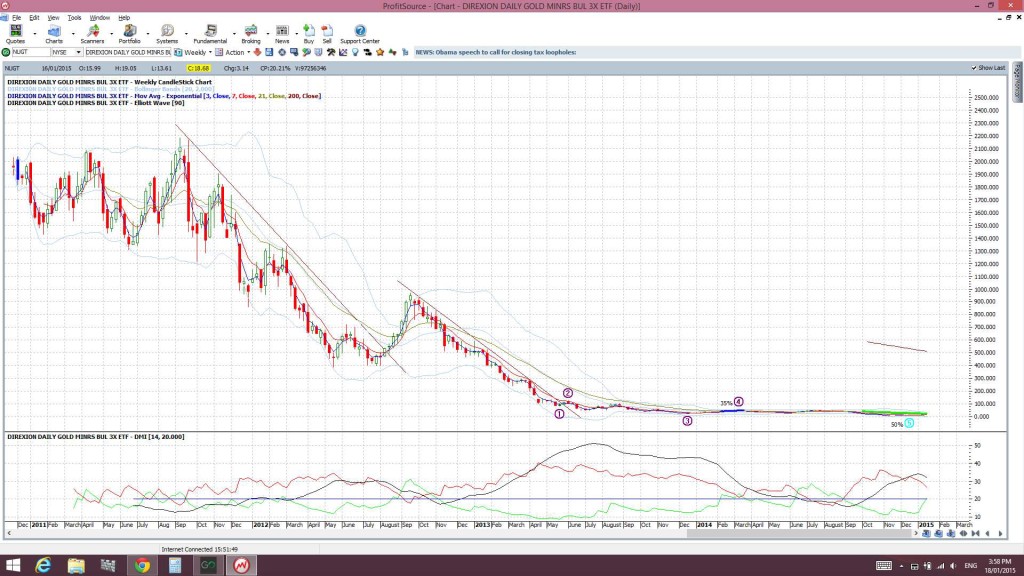 NUGT daily: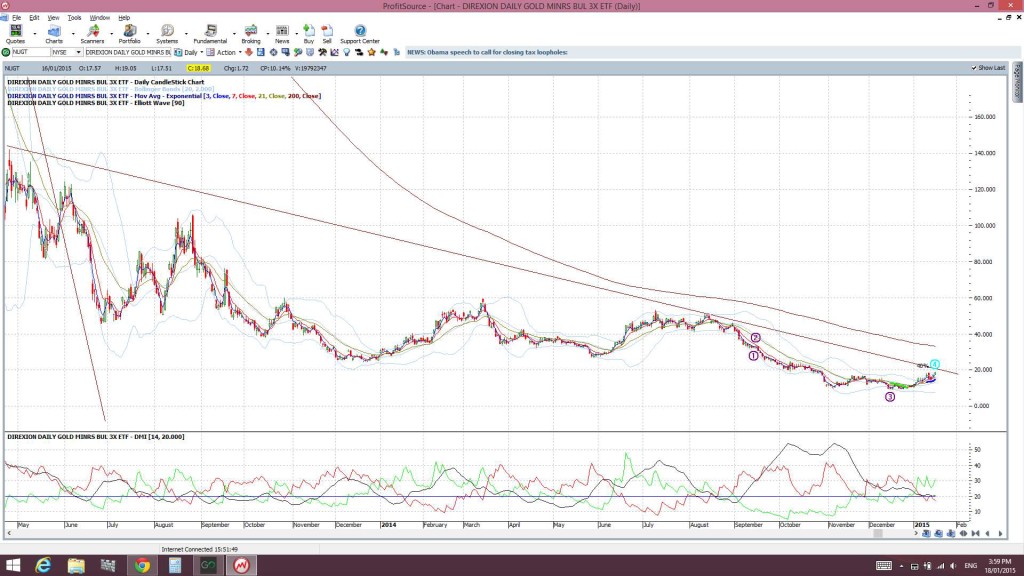 NUGT daily Cloud:
SI Spot Silver weekly: (Comex Silver Futures): as for the Forex chart of Silver, a bear trend line since 2011 has been broken: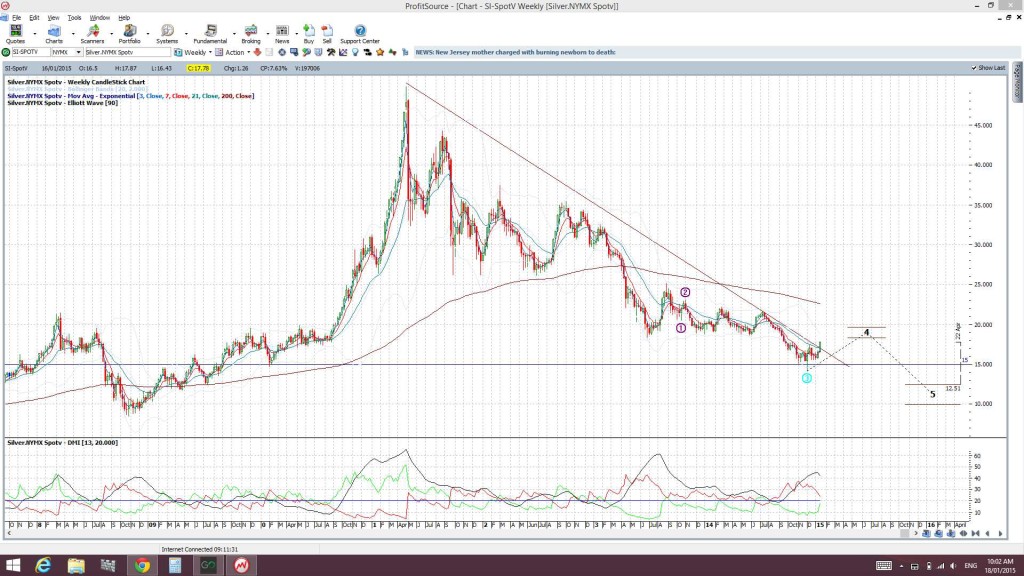 SLV weekly: Silver ETF as for the Forex and Futures chart of Silver, a bear trend line since 2011 has been broken: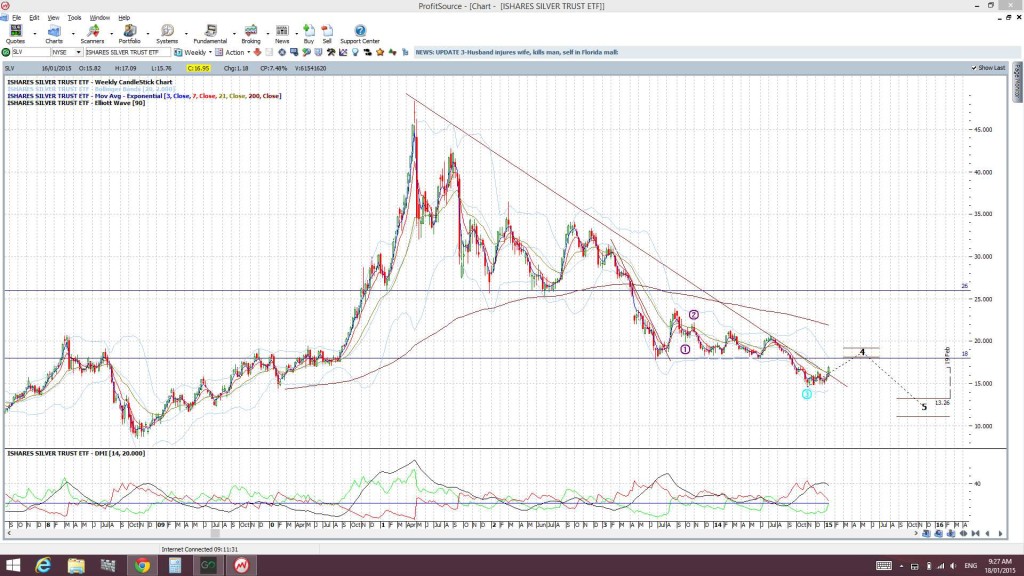 Stocks:
GG weekly: Goldcorp: getting close to testing a bear trend line in play since late 2011: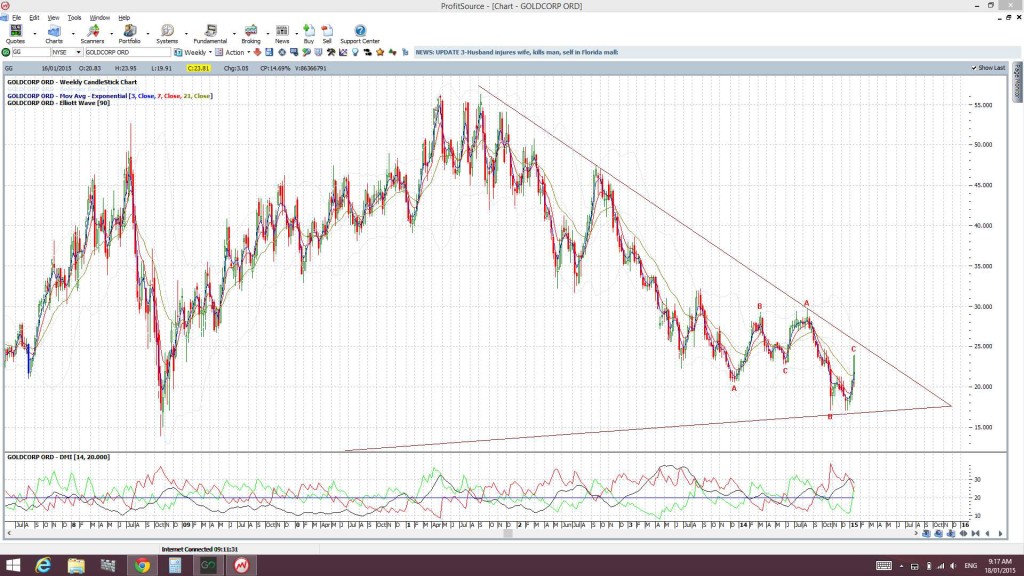 RGLD weekly: Royal Gold: forming up within a triangle pattern. Watch trend lines for any breakout: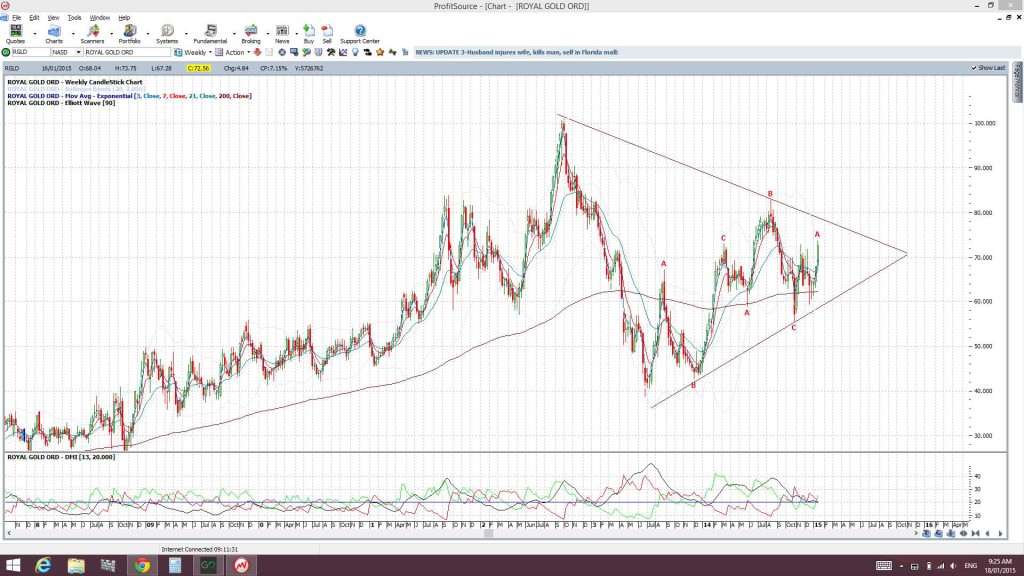 ABX weekly: Barrick Gold: Also close to testing a 2011 bear trend line: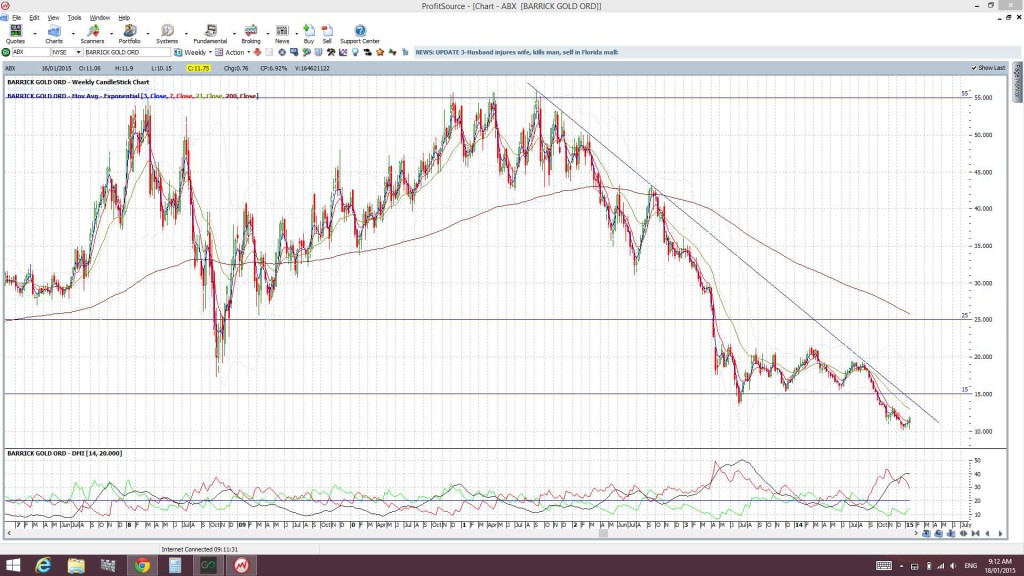 AUY weekly: Yamana Gold: Similar here. On the way to test a 2011 bear trend line: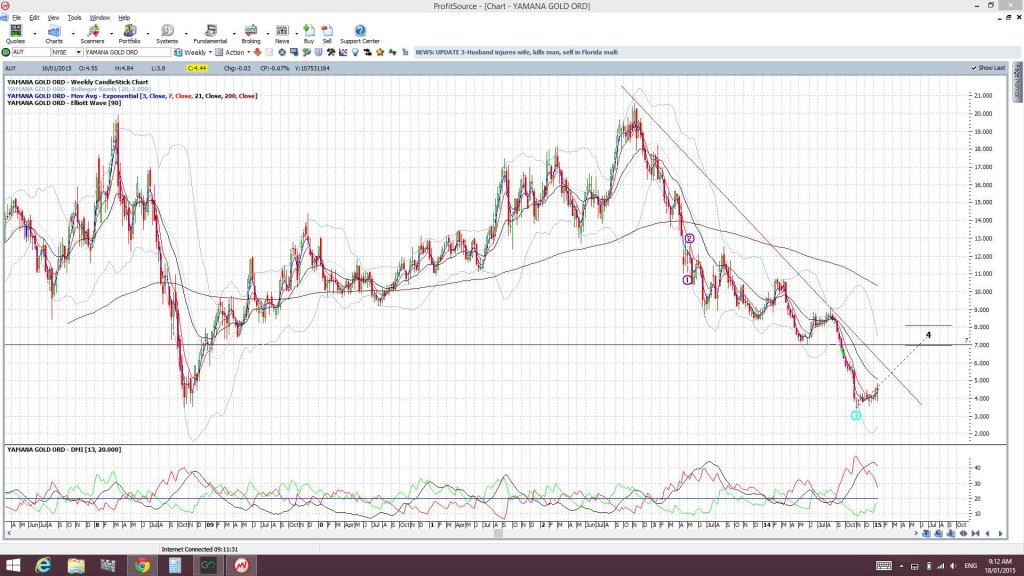 EGO weekly: Eldorado Gold: This stock has actually already broken up through the 2011 bear trend line: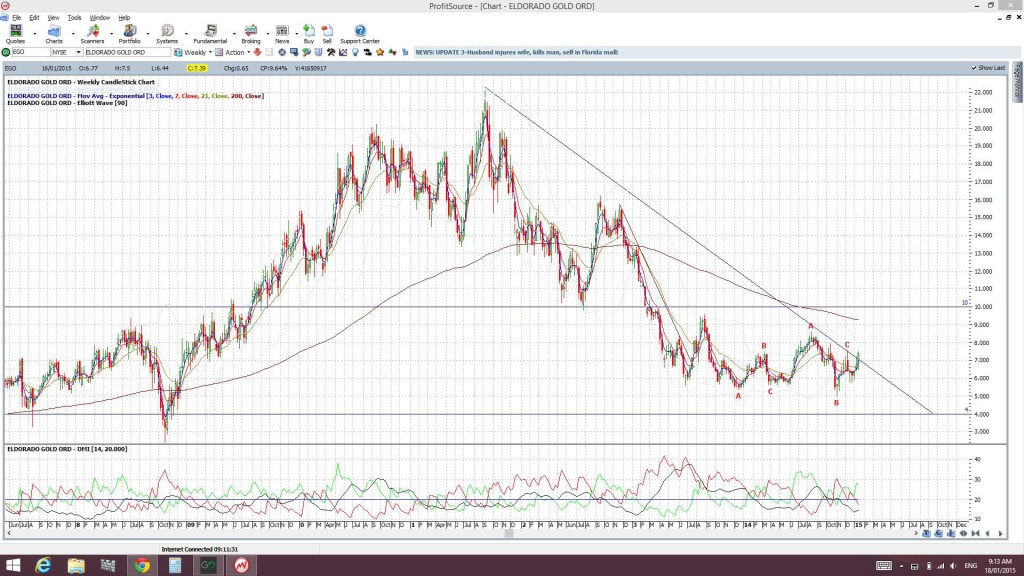 HL weekly: Hecla Mining: This, too, has broken a bear trend line but maybe a close above $4 would be even more encouraging: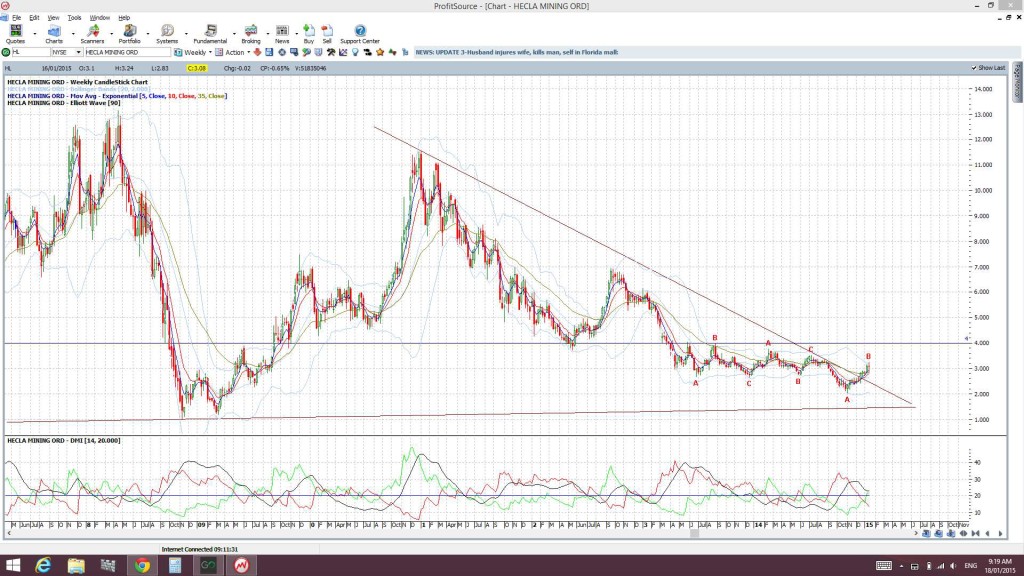 IAG weekly: IamGold: This has also broken up through a 2011 bear trend line but maybe wait for any bullish close and hold above $4 here too: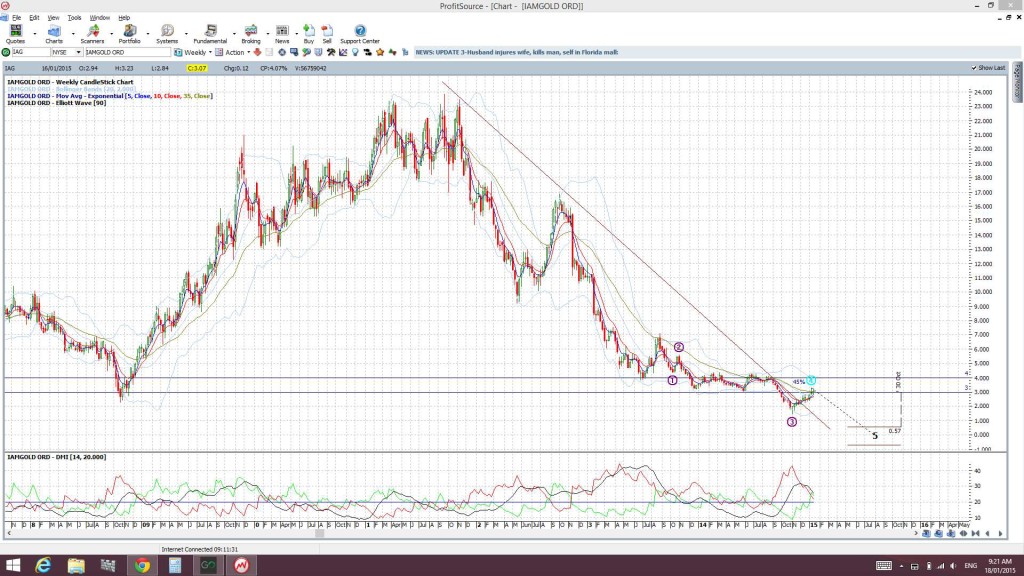 KGC weekly: Kinross Gold: has also broken up through a 2011 bear trend line but maybe wait for any bullish close and hold above $5 here: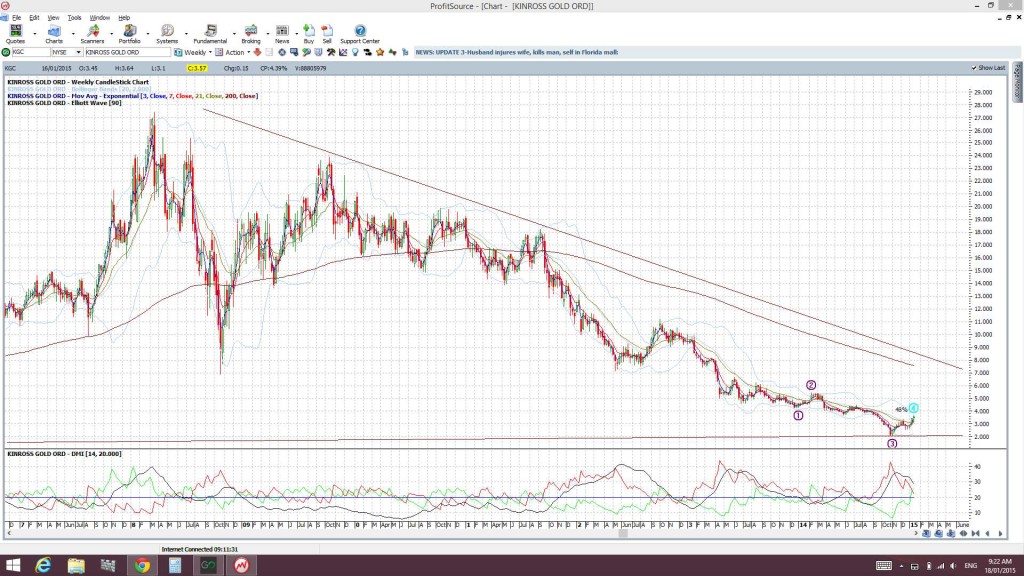 SLW weekly: Silver Wheaton: Watch for any trend line break here: