There has been a lot of US Election-related volatility but the US$ index has failed to break above the daily Cloud. Stocks have marched higher but Gold and most of the Forex pairs I monitor are little changed in net position from my previous update. There are rates updates today from the BoE and FOMC so keep an eye on FOMC  for any impact on the US$ index.
Data: watch today with updates from the US Presidential Election as well as news from AUD Trade Balance data and the BoE and FOMC rate updates.
Earnings: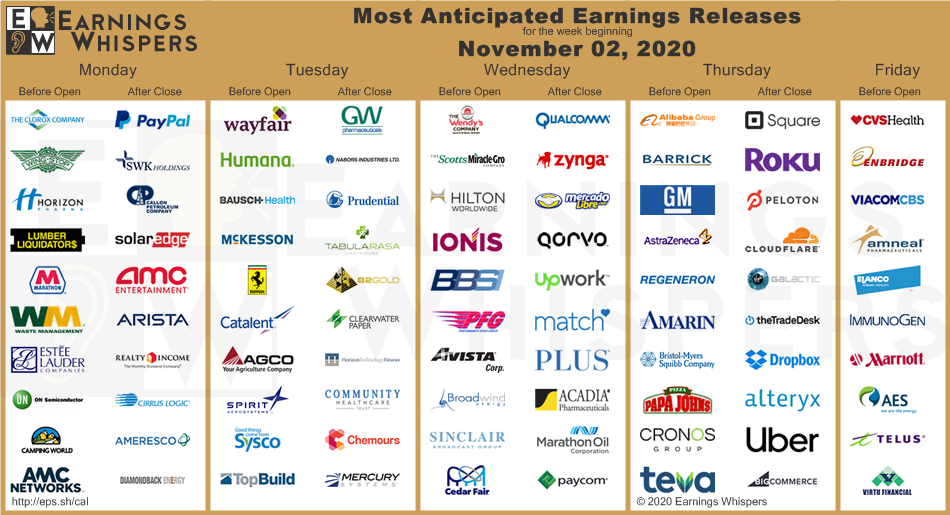 DXY daily: I have revised the triangle trend lines given the the very low momentum here. Watch for any new momentum-based trend line breakout; especially with today's FOMC update:
CSI daily: revised trend lines here too: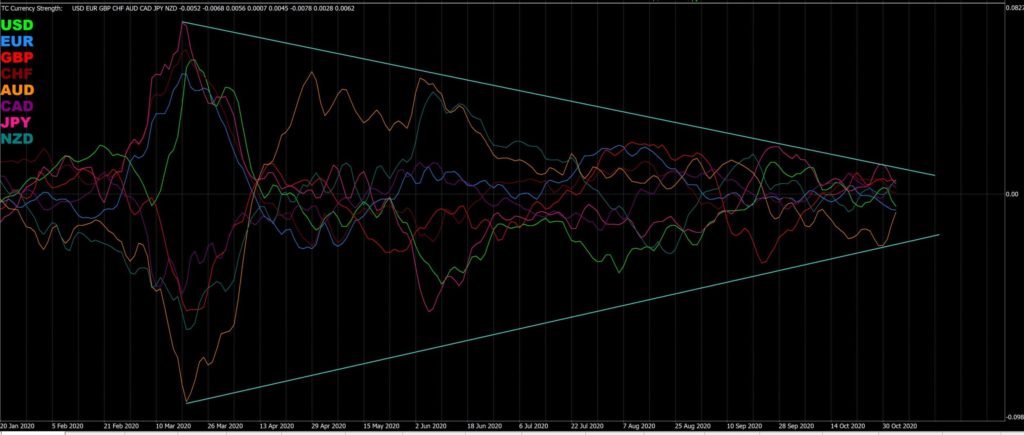 Trend line breakouts:
S&P500 4hr: the index chopped higher to give up to 150 points on this breakout. Watch 3,500 for any new make or break: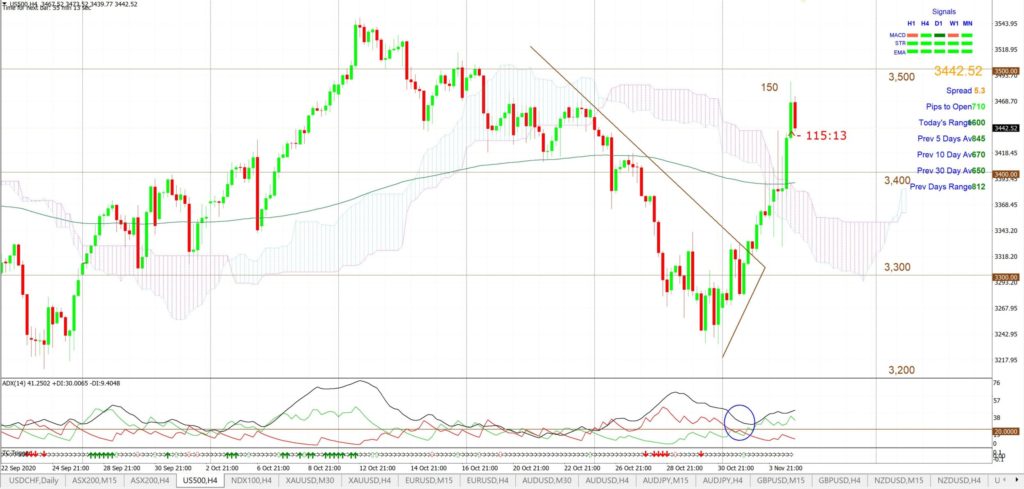 ASX-200 4hr: this index also chopped higher to give up to 120 points on this breakout. Keep watch of 6,100 for any new make or break: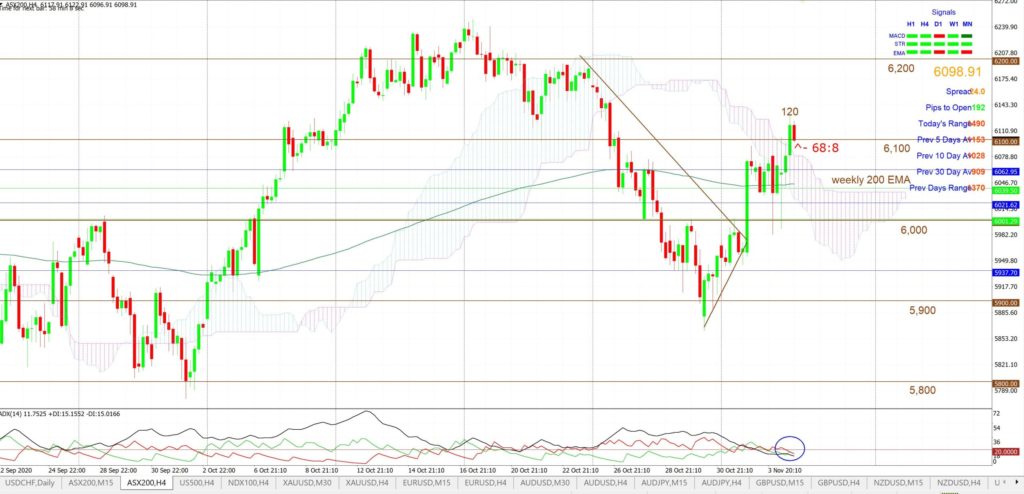 EUR/USD 4hr: check out the spike action here for a move up to 120 pips!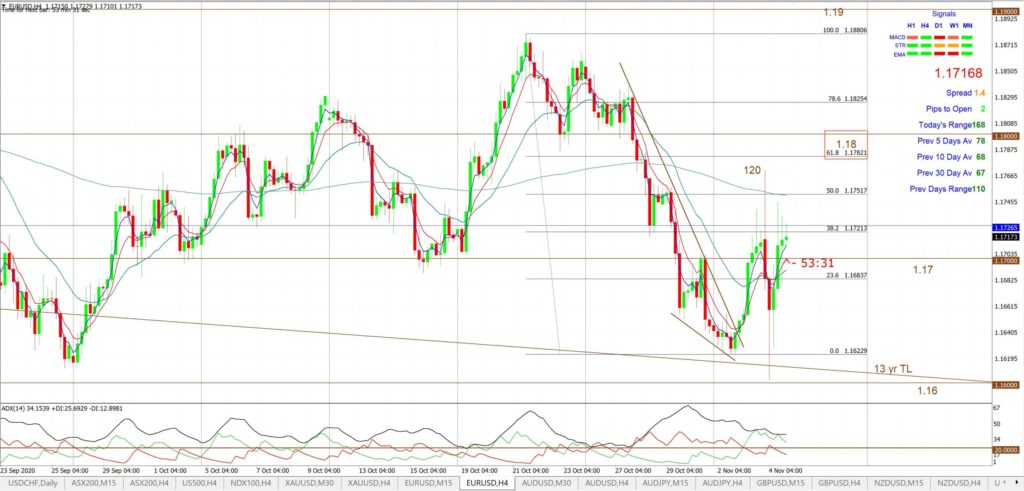 AUD/USD 4hr: spike action here too for a move now up to 50 pips but watch 0.72 for any new make or break: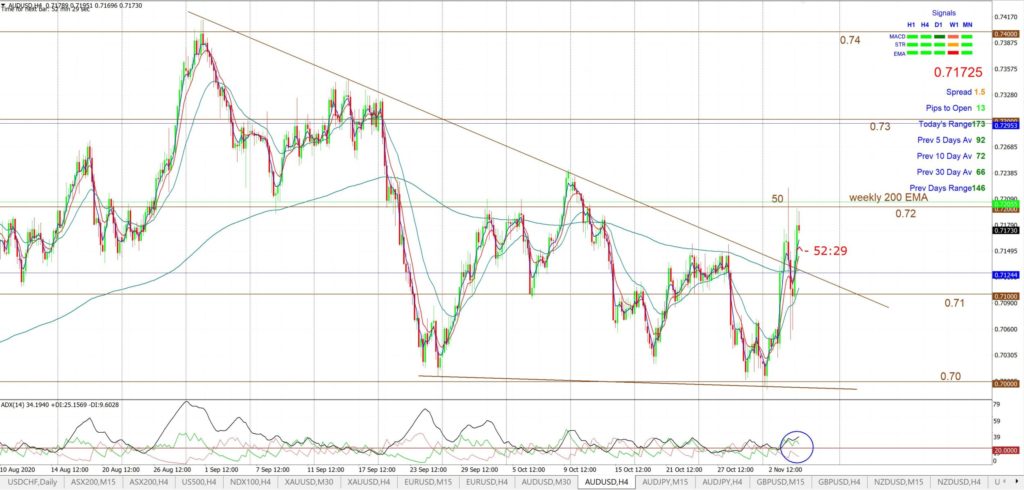 AUD/JPY 4hr: now up to 100 pips but watch 75 and the Flag trend line for any new make or break: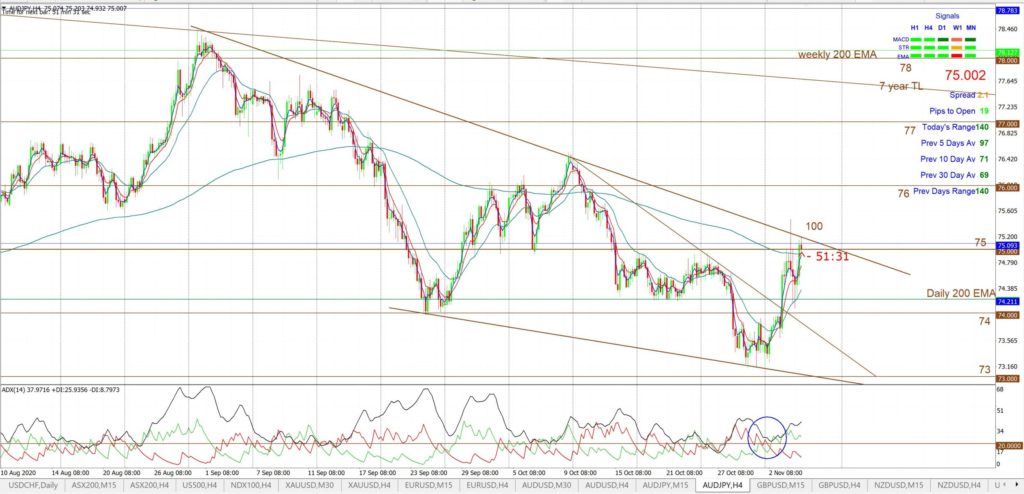 NZD/USD 4hr: spike action here too for a move up to 70 pips but watch 0.67 and the Flag trend line for any new make or break: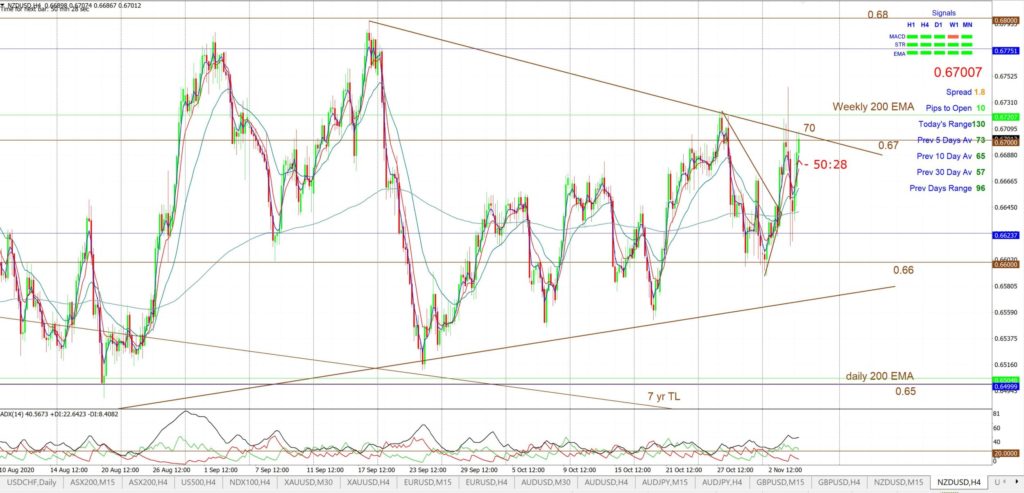 Other markets:
Gold 4hr: watch $1,900 and the trend lines for any new breakout: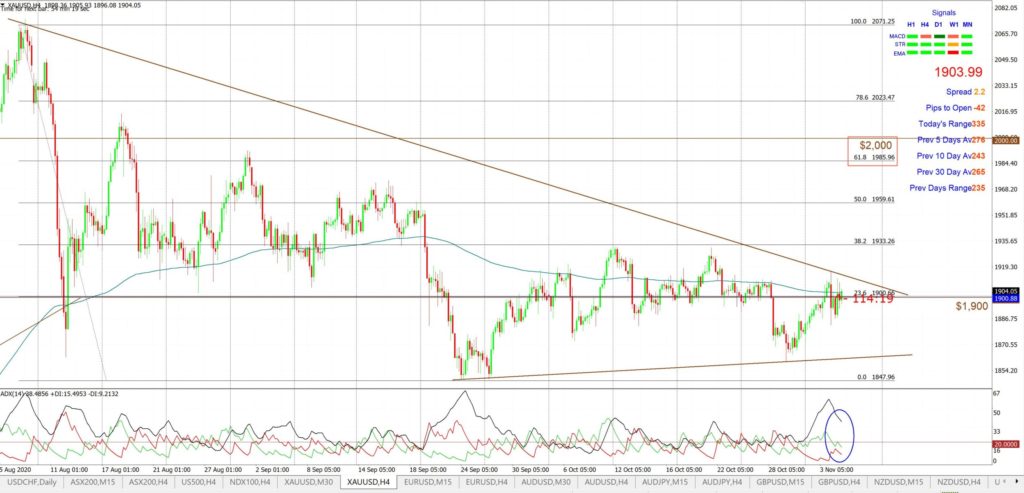 GBP/USD 4hr: watch 1.30 for any new make or break; especially with today's BoE rate update: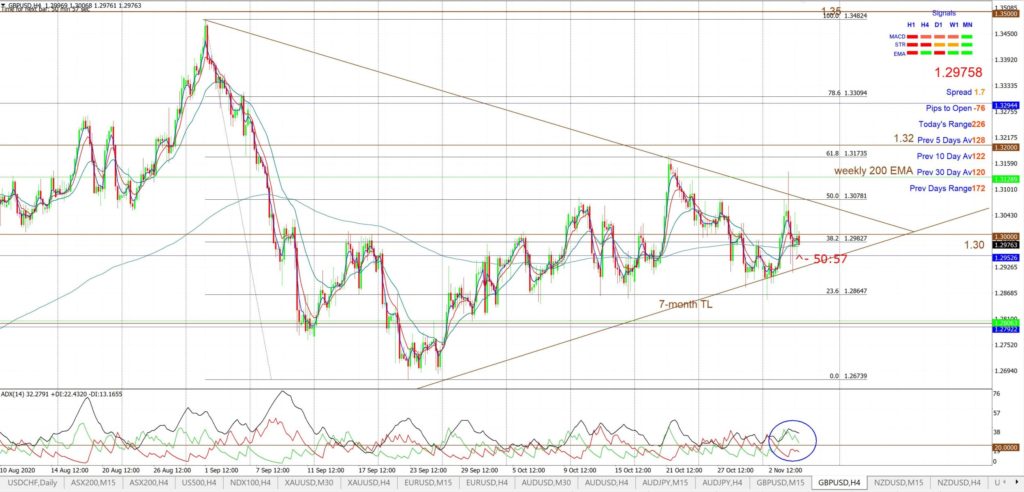 USD/JPY 4hr: watch trend lines for any new momentum breakout: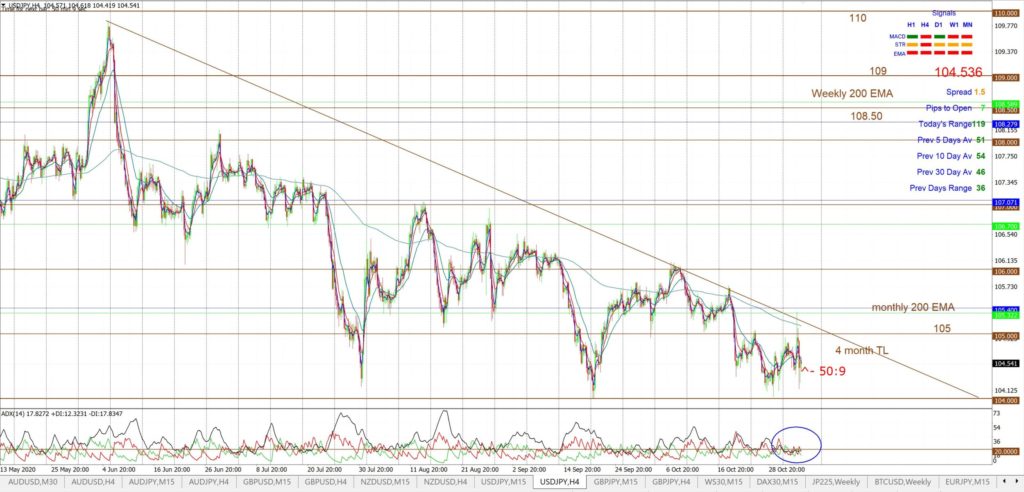 GBP/JPY 4hr: watch 136 and the triangle trend lines for any new make or break; especially with today's BoE rate update: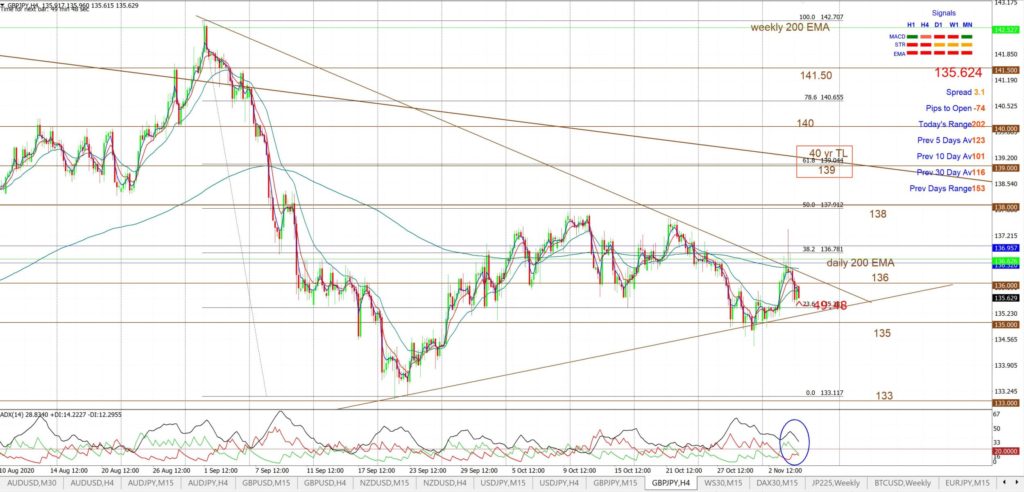 USD/CAD daily: watch revised trend lines for any new momentum breakout: