Sat 31st May
May is usually known for stocks as the month for 'Sell in May and Go Away'. One has to wonder whether this is true now given the close we have just seen for the major weight indices of the S&P500 and the Dow Jones Industrial Average (DJIA). A more appropriate axiom for 2014 might have been 'Up, Up and Away for May'!
S&P500: This would seem to be case if you look at the chart of the S&P500 with its bullish ascending triangle breakout: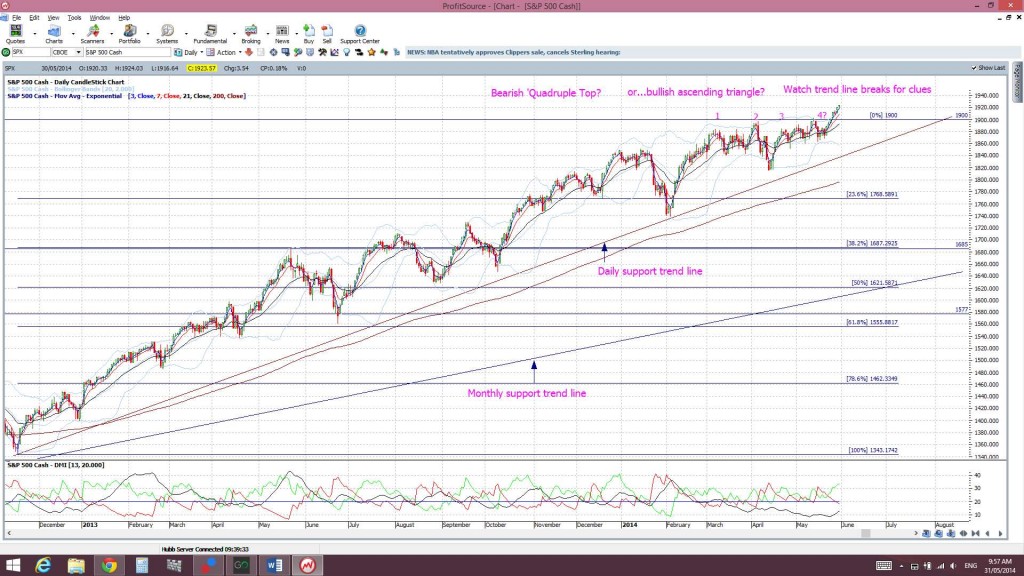 Friday was an important close as it marked not only the last day of the trading week but, also, the last day of the trading month. The bullish monthly close for the S&P500 above the 1,900 resistance level, whilst no guarantee that price will stay there, certainly gives more confidence to the possibility of bullish continuation.
INDU: this index had also been tracking along within a bullish ascending triangle pattern. The index made a bullish close on Friday and finished above the resistance 16,700 level, albeit only just.  This is a significant monthly close for the index as it marks a bullish breakout from the triangle pattern, however small that may be: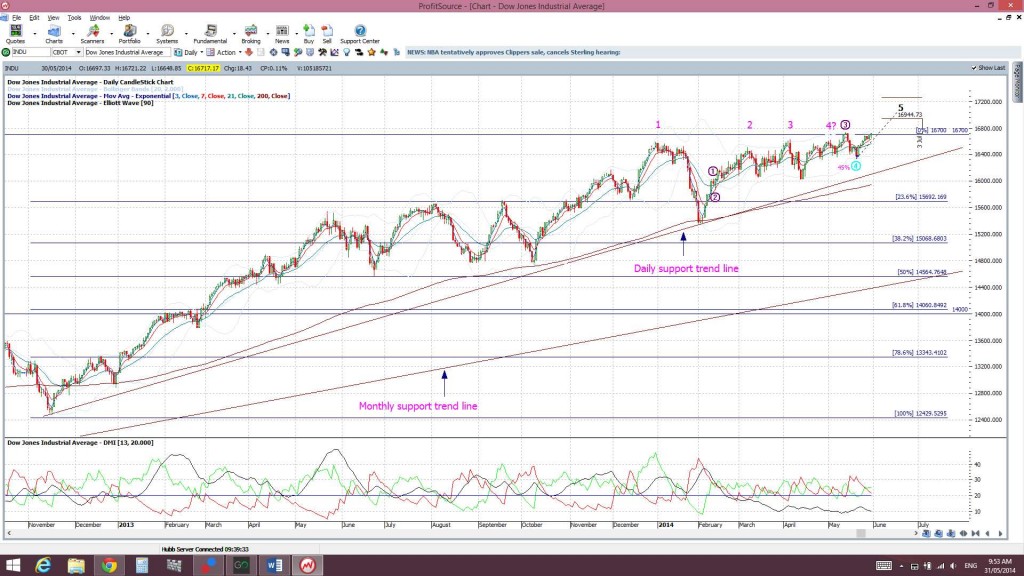 RUT: the small cap index of the Russell 2000 has also made a bullish monthly hold above the key 1,100 level: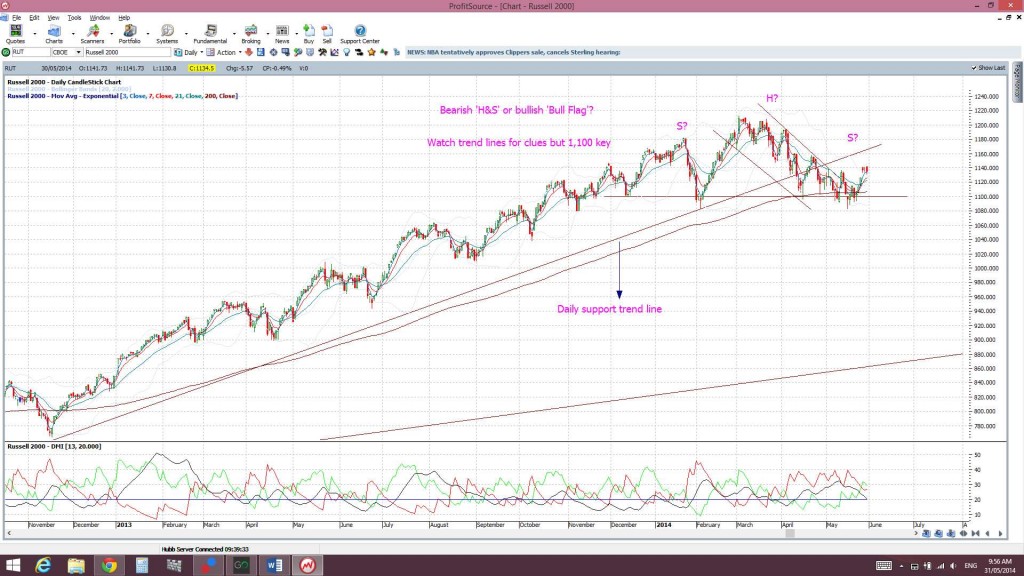 NASDAQ: has made a bullish monthly hold above the key 4,000 level and appears to be holding out from a bullish 'Flag' breakout: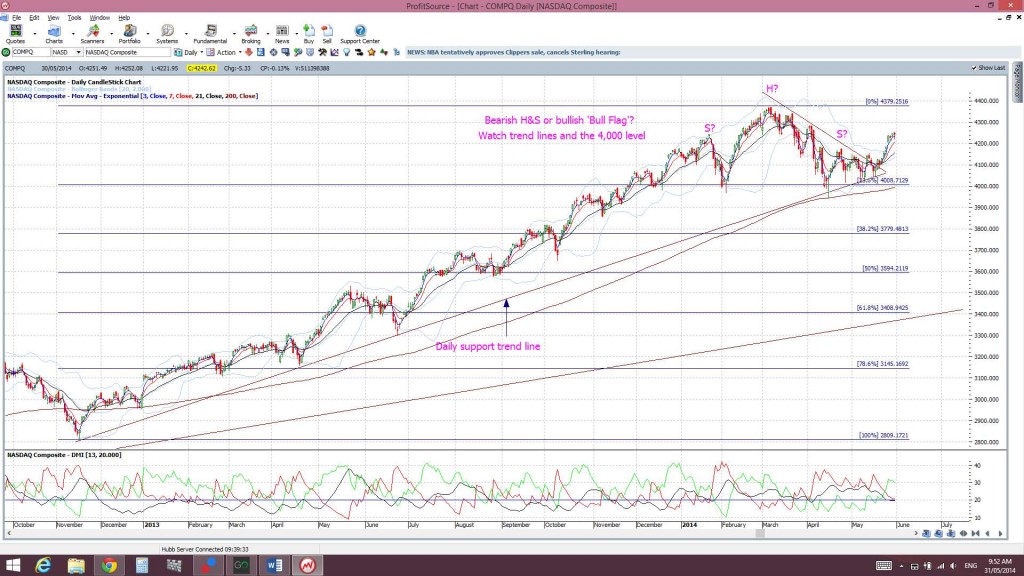 UPS: is often looked at as 'bellwether' stock and this has had a tremendous run since its bullish ascending triangle breakout. This might offer the S&P500 and DJIA some encouragement for their ascending triangle breakouts!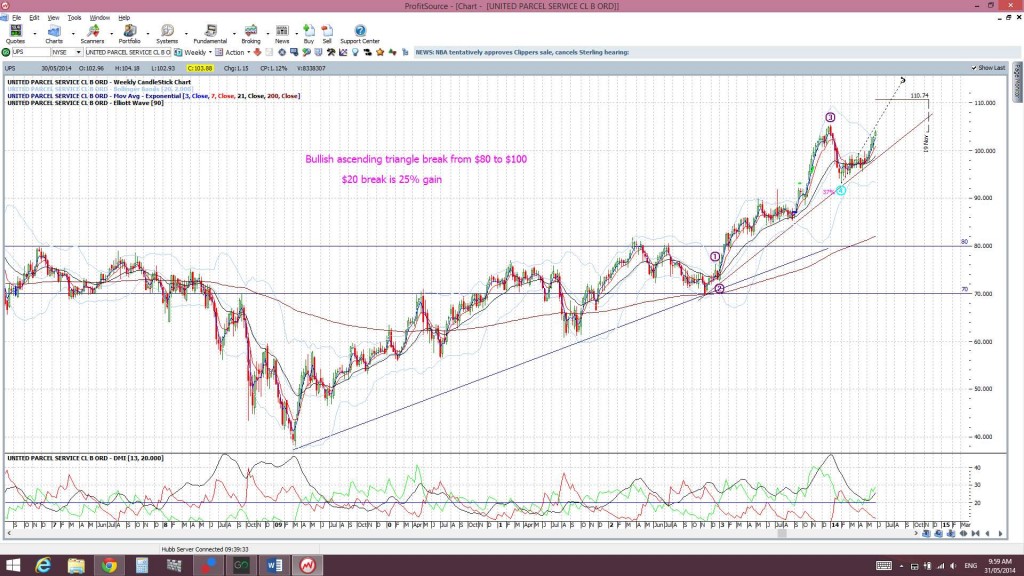 IYT: another 'bellwether' continuing to do well but this time the transport ETF: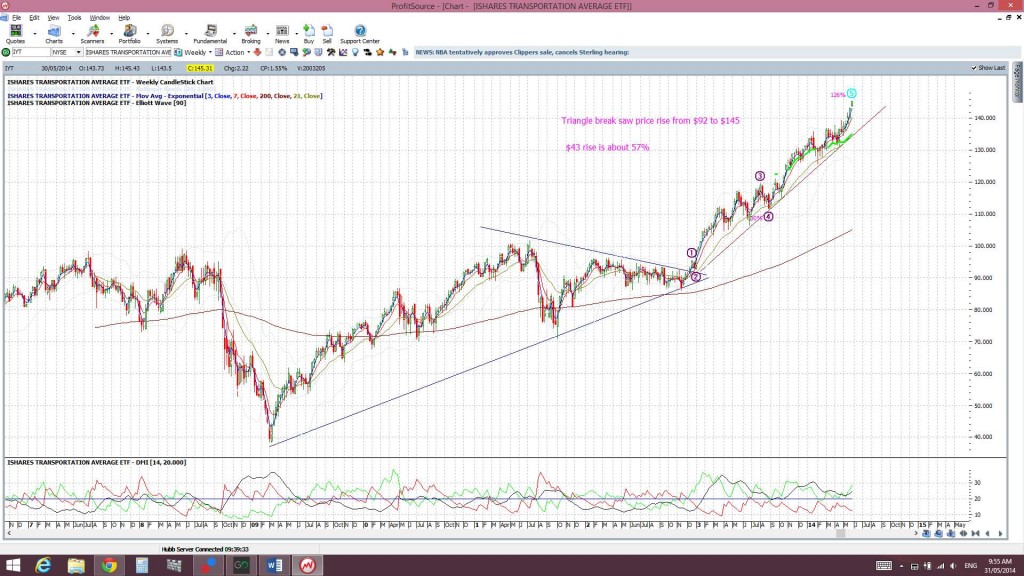 FDX: also looked on as a 'bellwether' and continuing to rally after a recent bullish triangle break: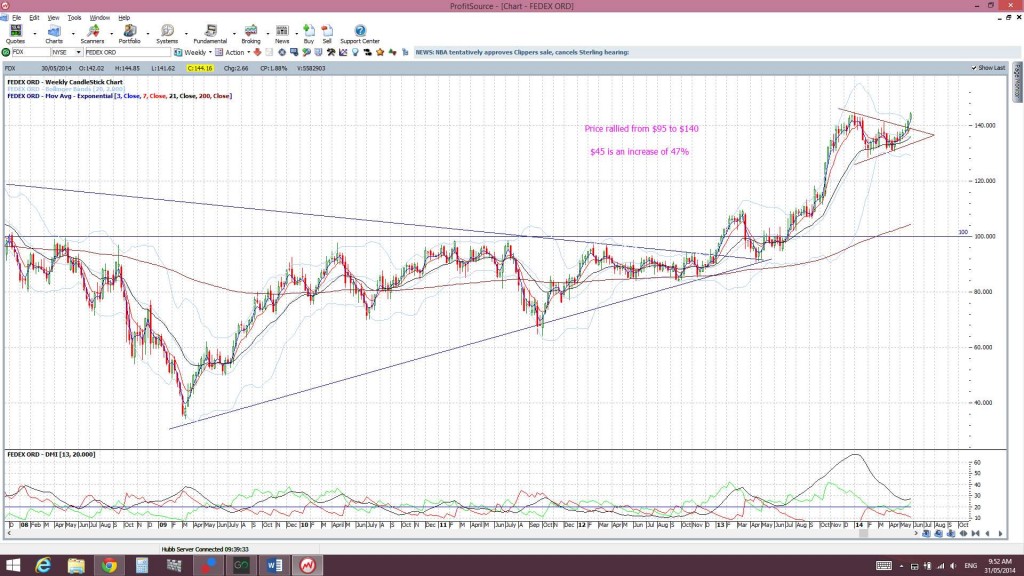 FTSE: this is still lurking under the 7,000 level and may take more time before any breakout evolves:
TSX: the 15,200 level proved to be too much for the Toronto index this month. Maybe next month if the US indices are anything to go by: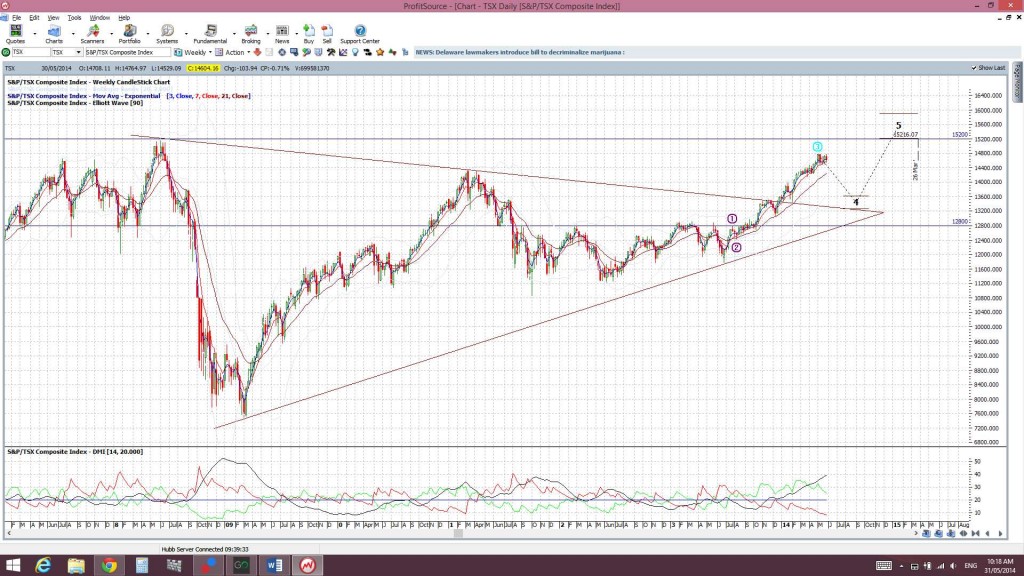 PCLN: this is a large cap stock and has made a bullish 'Flag' breakout that has given almost 10%!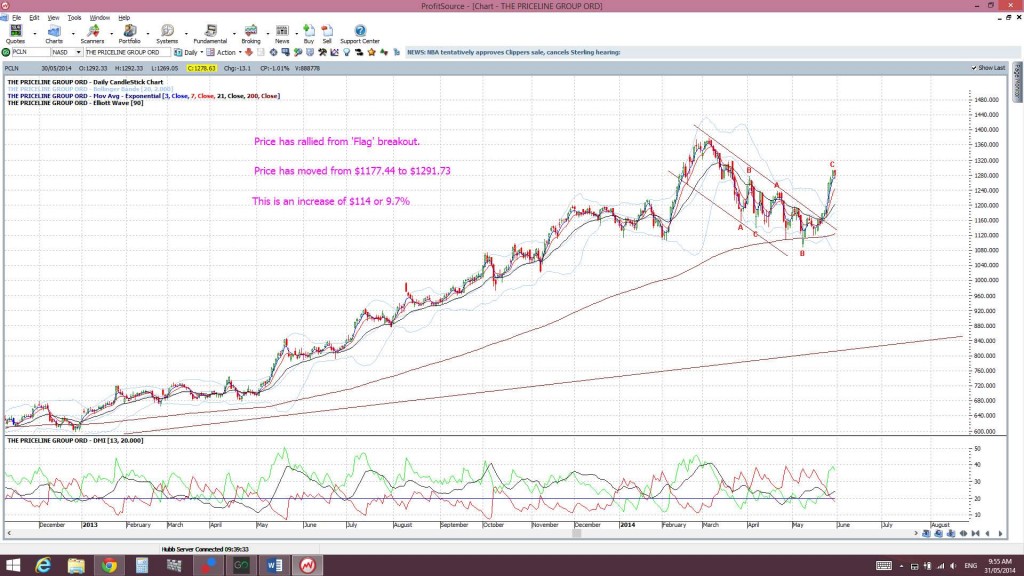 VIX: the 'fear' index looks set for a breakout soon but there is no bearish indication here yet: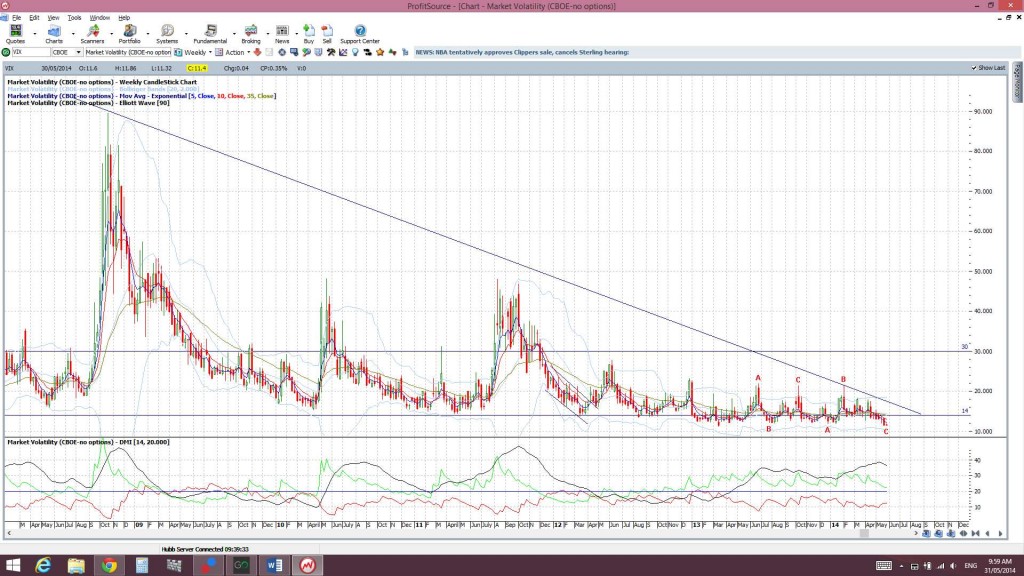 Summary: These are just some indices and stocks that have defied the 'Sell in May and Go Away' for this year. There are never any guarantees about future performance BUT the bullish technical pattern breakouts on the S&P500, INDU and NADAQ do tend to support the concept of bullish continuation. I will continue trading with that trend until I see signs of a reversal.