I'm recently back from a 5-week trip and slowly getting back into the swing of all things trading related. One of the more recent endeavors is applying TC to a stock charting platform and monitoring progress of short term trading in this field. Treasury Wine Estate, TWE, is one of my new favoured Aussie ASX stocks and I remain bullish here over the longer term. However, this has recently pulled back from its High and, in doing so, gave a great recent TC signal. I'm now on the lookout for any new LONG signal here.
TWE weekly: TWE has rallied significantly since 2015 but twice rejected the $20 psychological level earlier this year. Price action has since pulled back and broken below a support trend line. However, as I always warn, traders need to watch that this doesn't set up as a Bull Flag and the $14.50 level looks like a support level below this Flag to monitor here:
any hold above $14.50 would bring the $20 level back into focus.
any break and hold below $14.50 would bring the $10 level into focus as this is near the 61.8% fib of the 2015-2018 swing High move.
Shorter term Trading of TWE with TC: I recently had my TC Trigger coded for use on Trading View and this seems to be working quite well.
TWE 15 min: There was a great, low-risk TC signal set up October 19th: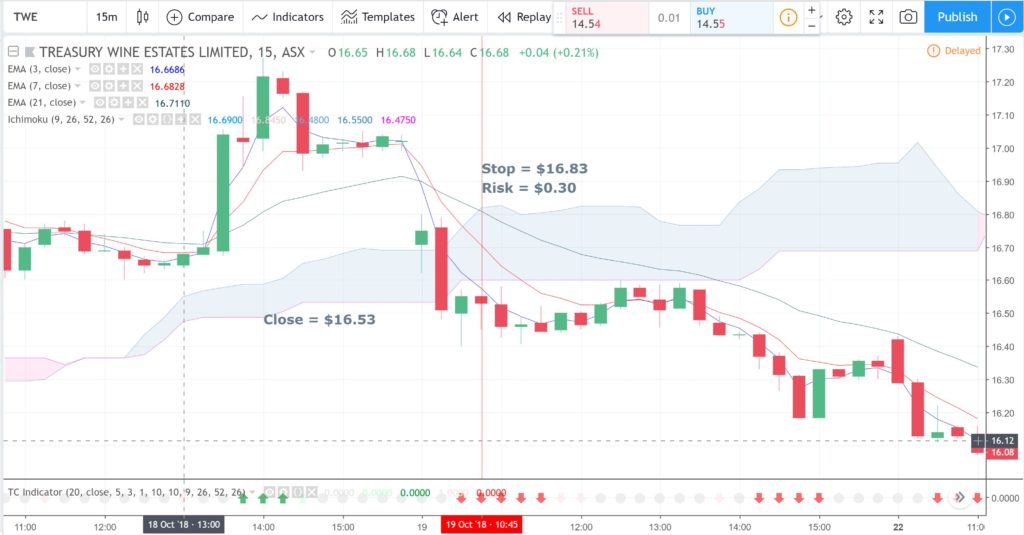 TWE 15 min: this TC signal went on to give around a 300% Return on Risk or 3 R: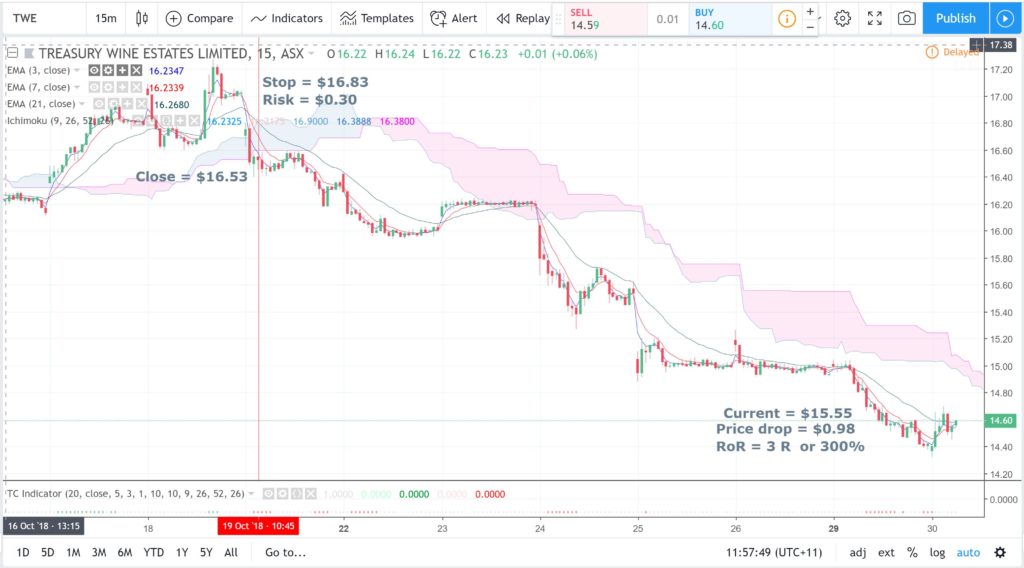 TWE 15 min: the sell off is stalling and I'll be watching to see if there is any hold above $14.50 S/R and any new cross of the Cloud with new TC LONG signal. Alternatively, if price breaks and holds below $14.50, I will watch for any new SHORT TC signal: